Putt Putt Your Way to Fun Acre Mini Golf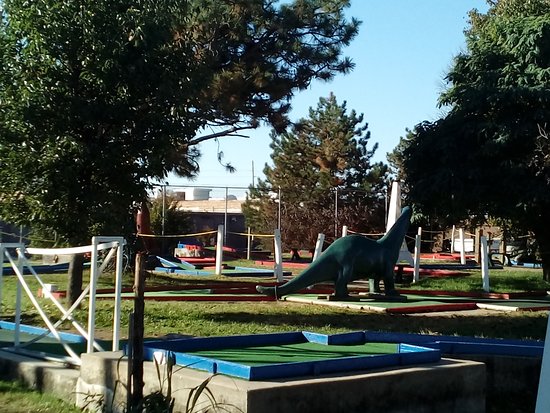 Hang on for a minute...we're trying to find some more stories you might like.
Fair Grove may be a great small town, but it does not have very many things that are enjoyable for teenagers these days. Springfield, a very exciting city, is close near by thankfully; however, everything to do that's fun in Springfield is super expensive.
I went searching on the internet to find something that would be satisfied with my cheap price range, but also allow me to have a good time. Finally, I came across a place in Springfield called Fun Acre. Fun Acre has an 18 hole mini golf course for only $2.50 per person, while also having batting cages right next to it just in case you want to hit a few balls while you're out and about! My friends Cydney Fullerton, Kalyn Wheat, Lyndsey Wall, and I decided to give it a go and head our way to Springfield to check it out.
It only took about 20 minutes to get there, and right when I got there my first impression was how terrible the parking lot was. The parking lot was very small, and on a hill so it was very hard to find where to park. Finally, we parked and went up to the front entrance and the people that work and owned the place were very welcoming and generous! "Even though the parking lot was a little weird and chaotic, the people at the front desk made me feel more welcomed and safe once I got up there," added Kalyn Wheat.
We started on the first hole of the mini golf course, and as we went from hole to hole the course got harder and harder! It was definitely a place for beginners like myself, but it was very enjoyable to do while also spending quality time with family or friends. There were tons of different sceneries to look at each of the different holes which was nice and creatively done.
When we finally got done with the 18th hole everyone got a chance to make their ball into this little hole in a machine, if you made it on your first try you would get a free game card for the next time you came back to Fun Acre which I thought was pretty awesome! After we got done with the mini golf course we went ahead and hit a few balls at the batting cages, and then called it a night! "Overall, I had a great time and I definitely will come back soon!" said Cydney Fullerton. I would definitely recommend going to Fun Acre if you're looking for something cheap, and fun to do on your free time.