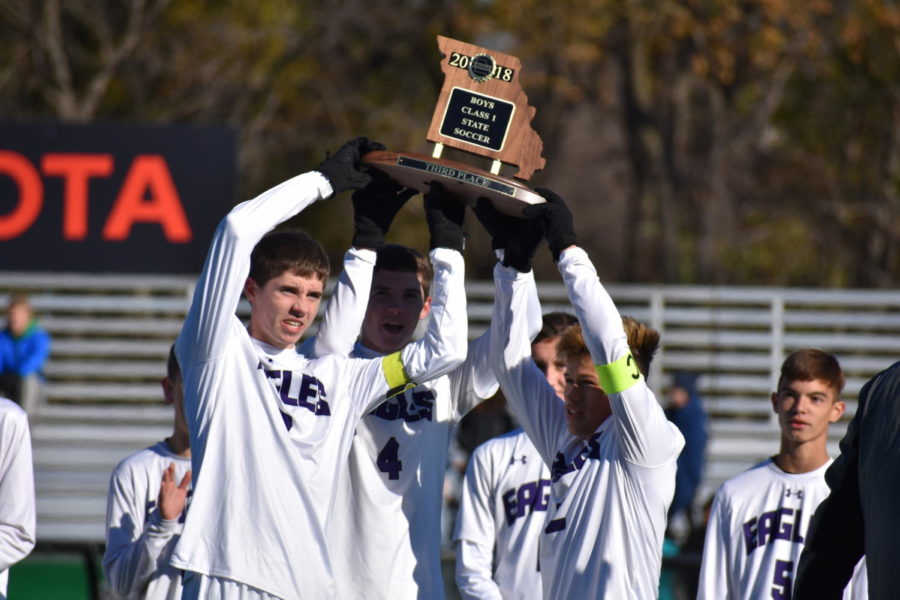 Sports for the fall season have come to an end, and at the end of the season players are selected to receive awards. Coaches are allowed to enter players for these awards and then they are voted on by the coaches. Awards were given to players on all Fair Grove sports teams this fall.  
Volleyball had five girls selected for awards. All-District players were Alana Findley (12), Sidney Hill (12), Shannon Collins (12), Ryah Icenhower (12) and Harley Maxwell (12). These girls were also awarded with All-Conference awards and Maxwell received an honorable mention. Findley and Hill were selected for the All-State team. Fair Grove Volleyball will have All-State Academic girls too, those will not be released until the first of year.
Fair Grove Cheer will also have a few girls who made Academic All-State. These names will not be released until the spring. This year cheer placed fifth at state.
Cross Country had two runners really stand out this year. Logan Holliman (12) and Ryan Odom (12) both were selected for All-Conference Honors. Logan was also selected for Second Team SWCCCA Class 2 All-Region Team. SWCCCA is the South West Cross Country Coaches Association. Logan said, "I felt honored to make second all region team this year for Cross Country." 
Fair Grove Football also gave out many awards this year. All Mid-Lakes Conference players were Blake Bridges (11), Garrett Love (12), Cody Jeter (11), Elijah Young (12), Cole Gilpin (11), Dominick Hoskins (11), Cody Gunder (12),  Darin Oplotnik (11), David Oplotnik (11), Bryce Thornton (11), Kolten Coddington (12), Hale Beckley (11), Josh Thompson (12), and Rhett Hill (12). All-District Players were Cole Gilpin, Dominick Hoskins, Bryce Thornton, Darin Oplotnik, Rhett Hill, Elijah Young, Cody Gunder, and David Oplotnik. Dominick made Second Team All-State and Darin was an honorable mention along with being awarded Defensive Player of the Year. Kolton Coddington, David Oplotnik, Darin Oplotnik and Tanner Lumley are Academic All-State players.
The Fair Grove Soccer Team also did well this year. Ten players were selected to receive awards this season. All-District players were Maicol Newkirk (12), Kyle Stacey (12), Kamron Stacey (12), Jack McAtee (11), Griffin Merillat (11), Shain Lahey (12), Dylan Mooneyham (12), Andrew Shurtz (9), Joshua Orr (9), and Jacob Morelan (11). All-Region Players were Maicol Newkirk, Kyle Stacey, Kamron Stacey and Jack McAtee.  Kyle Stacey was selected for All-Region Offensive Player of the Year and Kamron Stacey was selected for All-Region Defensive Player of the Year. Maicol Newkirk, Kyle Stacey and Kamron Stacey were also selected for All-State Awards. Maicol and Kyle made First Team All-State and Kamron made Second Team All-State. Coach Joseph Florez was selected as All-Region Coach of the Year and All-State Class 1 Public Coach of the Year.  The soccer team placed third in state.