Fair Grove Eagles' Volleyball Districts
November 4, 2020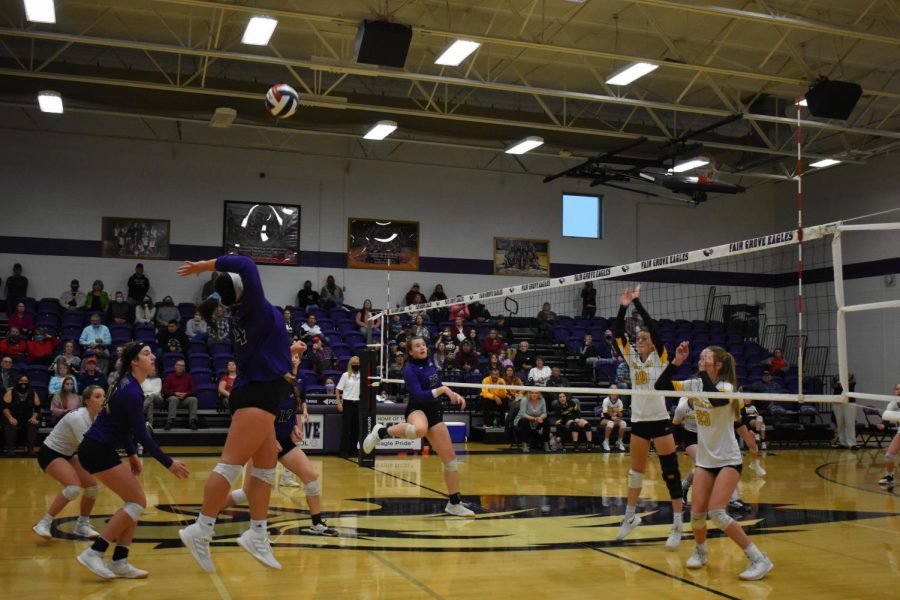 Fair Grove High School hosted this year's volleyball districts and made it to semifinals before losing to Miller. Miller's team then went on to win districts.
Fair Grove won their first game against Pleasant Hope in a close five set game. They went on to the semi finals and lost to Miller in a three set game. Miller then played Ash Grove in finals and won districts in another three set game. 
Coach Tonya Peck stated, "I am super proud of our effort in district play. We came out the underdog and got the first round win in a 5 set battle! It was hard to turn around and play again that night but we were still able to compete in the semi final game but just fell short."
Losing in districts meant the end of the season for Fair Grove's volleyball team. "I left it all on the floor in districts. I knew that it could be my last game so I fought as hard as I could," explained Lauren Kennard (12), the team's middle hitter. 
The team ended with an 8-21-3 record. "This group of girls have been dedicated and have worked hard since day one. They have improved each game. My favorite part about this group is their willingness to try new things and how well they get along. This is not something that happens every season and this group had no room for drama. It was fantastic," stated Peck. 
This year Fair Grove is only losing two volleyball seniors, Lauren Kennard and Sarah Beals. Sarah Beals, the team's outside/right side, mentioned some promising upcoming freshmen on the team, "… We had two major freshmen on the varsity court, Allison Findley and Hannah Maxwell, they are going to do something major with their three years left to play."
For more photos from the Fair Grove vs. Pleasant Hope Volleyball District game, click here:
https://drive.google.com/drive/folders/1RcFjN5C9efJjGGpWeFRSjjpgkPcql7M9?usp=sharing