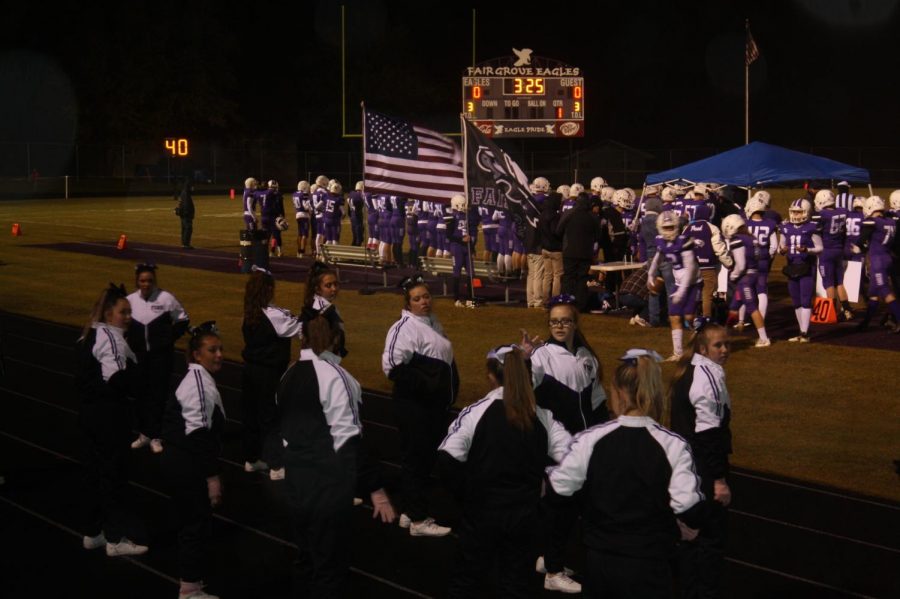 The Fair Grove High School's cheerleaders switch from football cheer season to basketball cheer season as the football season comes to a close.
Piper Logan (10), a Fair Grove cheerleader, said, "The difference between cheering for basketball and football is that for the football we stand on the track and cheer, we do touchdown cheers, and then for basketball season, we stand on the side of the court, and we do a lot of free throws and rebounding cheers." Logan also mentioned, "Cheering basketball is a lot different than football season because you are a lot closer to the game, and the entire court is a lot louder because we're close together."
Cheerleader Mckenzie Chandler (12) believes that the crowd is easier to get excited because of the very involved pep club during the basketball season. Chloe Reynaud (12) revealed, "It is easy to get the crowd going in both sports for different reasons. In football games, the parents stand up during cheers and then do defense cheers with us as well!" She went on to say, "However, in basketball, the pep club is standing in the bleachers right above us, so it makes it much easier for them to get involved in cheers with us."
Reynaud prefers cheering in football season. She remarked, "I enjoy football more. I enjoy football because I like to watch football and know more about football as well. I like being outside and enjoying the nice weather at the beginning of the school year." However, Chandler prefers to cheer for basketball. "I enjoy basketball more than football for more than one reason," she shared. "I understand basketball more, and it is more fast-paced. With football sometimes it is harder to see, and it isn't as fast-paced as basketball."
Logan's reason for being a cheerleader is that she loves being involved in the community and getting a chance to get the crowd pumped up. She also loves to participate in activities in the community, like being a part of parades.
Reynaud loves being a cheerleader because she loves the team aspect of cheerleading. She also loves supporting Fair Grove athletes. Reynaud has made so many good friends throughout her course of cheerleading.
When Chandler was a young kid, she would go to basketball games and watch both of her sisters' cheer. She looked up to her sisters and wanted to be just like them. Once Chandler got into seventh grade, she tried out for cheerleading and had made it on the team.
Fair Grove has a great community according to Logan. She loves to be involved in the community and loves being a Fair Grove cheerleader, and she intends to be a Fair Grove cheerleader all four years of high school.