Springfield Art Walk
November 11, 2020
On the first Friday of each month, Springfield hosts a community art walk. This month the art walk was on November 6th. In downtown Springfield, the local artistic community can gather together to display their work and give the Springfield people a night filled with creativity.
Each month the walk takes place from 6 pm – 10 pm, although some locations may have earlier, extended, or slightly varied viewing hours. The art walk is a self-guided tour of the art galleries and venues downtown featuring original art pieces. There will also be opportunities to experience live art demonstrations, live music, local history, international culture, as well as all the usual dining, shopping, and entertainment that downtown has to offer.
When you visit the Art Walk website, http://ffaw.org/first-friday-art-walk/, you can find a map that shows you all of the places that are participating that month, such as the Transformation Gallery and Tattoo, The Creamery, The Vineyard Church, The Fresh Gallery, and the Inspired Commerce Building.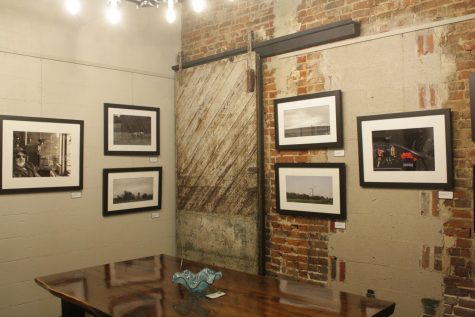 In the Transformation Gallery and Tattoo, part of the art walk showcased the works of Justin Matthews. His showcase is titled "Prelude to Alchemy." Justin's artwork consists of intricately detailed and oddity inspired flash-style acrylic ink paintings. The official Instagram of the Art Walk states that, "Justin is a resident apprentice at the tattoo shop, as well as a long time collector of Transformative tattoos." Matthews' Instagram handle is @justinmatthewtattoo.
Another place showcasing artwork was The Creamery. Their exhibit called "Caught my Eye" had pieces featured from the artists' Colleen Barks, Deby Gilley, Crystal Moody, Renee Effert, and more. 
The Art Walk is a community event benefiting both the artist and the audience. Audience members can enjoy exposure to new and beautiful forms of self-expression while the artist gains exposure, awareness, accolade, and potential patrons. 
For more info, you can go to these websites:
http://ffaw.org/first-friday-art-walk/ 
https://www.springfieldmo.org/events/42747/first-friday-art-walk 
Or find them on these social media sites:
Instagram: @artwalksgf
Facebook: @firstfridayartwalk
Twitter: @artwalknews