The End Of Something Great
January 28, 2021
The Fair Grove Middle School Girls Basketball season has officially come to an end; a season filled with trials and victories is over, but what they accomplished won't go unnoticed.
The seventh grade girls team ended their season with a record of 10-5 and the eighth grade girls team ended their season going undefeated for the second year in a row. Although both of the teams' records make it seem like winning is easy, there is a lot of hard work that goes into preparing them for their games. Carrie Green, head coach of the middle school girls basketball teams, stated, "Both teams play hard. They make each other better in practice because they compete and strive to get better each day."
Basketball is a team sport, but it's also a mental sport. As a player, you have to be able to do what your coach is telling you to while remembering the team aspect. You need a good balance of listening to your teammates and your coach all at the same time in order to achieve your goals. Neither of the teams lacked the balance they needed to succeed. "They were coachable and intense all season. I really think we have a bright future with this group of kids. They would run through a wall if you told them to," said Green. 
A regular middle school basketball season lasts a couple months. Between late nights after games and early morning practices, the girls hardly spend any time away from each other. They are together so often that they basically become a family. "My favorite part of the season was probably the bus rides home. We got to stop and eat and we had a lot of fun hanging out with each other," stated Emaley Stallings, one of the players on the eighth grade girls team.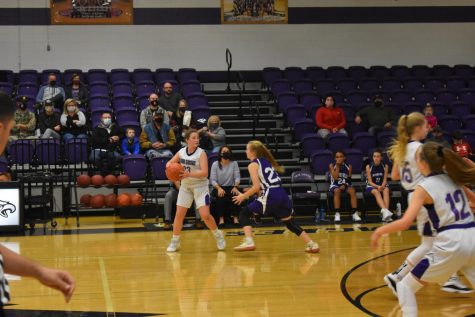 All together, the eighth grade girls team finished their middle school career 29-0. They outscored their opponents 1,604 points to 282 points in two years. They also won the conference tournament championship both years. The seventh grade girls team finished second in the conference tournament. They played teams that had eighth graders on them and every game they lost was under 10 points.
Although this last year brought many trials, the middle school girls basketball teams persevered. Green stated, "We look forward to what the future holds for both teams!"