Brooklyn Luna's Chapter of Basketball Brought to an End
March 3, 2021
The 2021 Fair Grove Girls' Basketball season recently came to a close, which marks the end to the high school career of star, Brooklyn Luna.
Luna played in 13 games as a freshman, and began playing consistently on the varsity roster her sophomore year, where she concentrated on distributing the ball to the offensive seniors of that season. Head Coach, Jennifer Talbert, explained, "Brooklyn has been a key player on the varsity team for the last 3 years. As a freshman she did step up in a few games and make a big difference as well, but the last 3 years we have asked her to do a lot more. She has been a main scorer for us the last two years and she has always been our main assist leader since she has been playing varsity."
The season ended due to a loss against Sparta in the district tournament. Luna's goal in the three years she played varsity was to score 1000 points in her high school career; however, Fair Grove's last three regular season games were cancelled due to weather, which left Luna 37 points away from her goal heading into Districts. Luna scored 28 points in her final game, bringing her career point total to 991. She described, "I was super devastated watching the time run down. Especially knowing it was my last game with my friends. It didn't end how I wanted all together, but I wanted to play my heart out that last game and I did, ending with a career point game high!"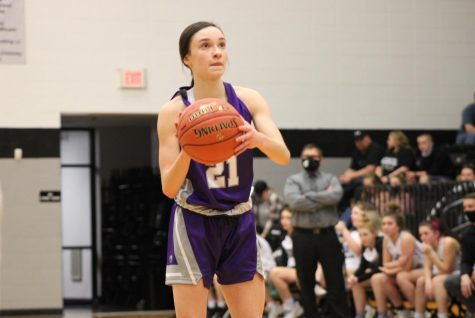 While Luna may not have quite reached the point total she desired, she is in the state record books for having 423 career assists, something which she is extremely proud of.
Luna has left her mark on the program by leading underclassmen. Talbert commented, "Since she has so much varsity experience, she has been able to use that to help bring the underclassmen up to the speed of varsity basketball."
Luna has also developed strong bonds in the program that will make leaving difficult. She expressed, "I think I'm going to miss the coaching staff and teammates the most. I've grown close bonds with a lot of the girls and I will definitely miss them. They have impacted me on and off the court. I am the player I am today because of the coaches putting all their trust in me on the court and allowing me to expand my game and grow all around as a player. My teammates have helped me become who I am for always allowing me to be their leader, trusting me, and being my very best friends off the court. I will definitely miss this group and program."
Currently, Luna is planning on playing basketball at Missouri Valley next year. Talbert stated, "She made quite an impact in the Lady Eagles basketball program throughout her career. We are excited to see her continue her career at Missouri Valley!"
Luna concluded, "I am super excited to see what college holds for me. I'm playing my best basketball right now and I can't wait to continue and bring my game to a new team! I'm working on my game and physical strength even more in the off-season so I'm ready for freshman season."