Saying Goodbye to Mrs. Pam McCarty, The Secretary Of Our Nostalgia
October 16, 2021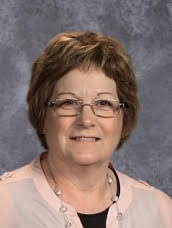 Mrs. Pam McCarty, often referred to as "School Mom" by students and teachers alike, retired from her job as Elementary secretary at the beginning of the 2021-22 school year. 
Mrs. McCarty had worked at Fair Grove for over 20 years and during her work at the school she has in some way, directly or indirectly, impacted the hundreds of students she has watched over during her time at Fair Grove. 
Mrs. Pam worked hard at the school to make sure that things ran smoothly and to ensure that the kids were safe. She worked everyday in the Elementary front offices doing paperwork, printing forms, taking phone calls, and helping to provide a good learning environment for the kids of the Fair Grove School District. Whitney Hyde shared, "She was always watching out for them and making sure that they were doing okay."
Whitney Hyde, one of the special education teachers in the Elementary school, talked about the kindness that McCarty shared to others and the care she gave to the Elementary students. Hyde said, "She would stop by the classroom to say 'Hello' and she would talk to them in the hallway, at lunch, or any time she came in contact with them." 
Hyde had a special connection to McCarty and had known her since birth. McCarty attended her church and was a dear family friend. Whitney credits McCarty for helping her get into the list of consideration for her current teaching position at the Elementary school in the first place. 
"Mrs. Pam mentioned my name to the Director of Student Services and told him that she knew someone from church that would be graduating soon with a degree in special education." Hyde explained. Whitney has been working at Fair Grove for 11 years since. 
The elementary principal, Dr. Charity Hollan, had this to say about McCarty, "She considers the staff of the elementary part of her family, and we feel the same way. She has taken on the role of 'school mom' to so many teachers."
In place of McCarty, the Elementary will be having a new secretary to take her place in the front office. Mrs. Caroline Dukes, a fresh member to Fair Grove, will be coming in soon to fill the role. Not much has been shared about Dukes, however she has been trusted with the position by Dr. Hollan and the rest of the elementary staff.