New Cook In Town: Kinsey Cook Aiding Injured Athletes
November 1, 2022
Kinsey Cook, the new Fair Grove Athletic Trainer, has been helping Fair Grove Athletes work through their injuries throughout the 2022 fall sport season. 
Kinsey Cook has been an athletic trainer for over seven years. She completed her bachelor's and master's degree at Missouri State University. From there, Cook went to Evangel University where she was a graduate assistant athletic trainer. Previously she worked with tactical athletes at Logan-Rogersville High School, over the summer of 2022 CoxHealth transitioned Cook to Fair Grove High School.
Cook spoke on how she has felt about Fair Grove High School so far, "Fair Grove is a great school with some of the best community support I have seen. Families are supportive of their kids, but also the school and its coaches and administration. I have felt very welcomed into the Fair Grove community and am excited to continue working with Fair Grove athletics."
Kolton Stevens (11), a Fair Grove Football Player, became injured at a football game on September 30 while playing against Strafford High School. Stevens stated that, "I have a left knee injury that I'm currently dealing with at the moment. We have some ideas of what it is, thinking it could be a partially torn ACL and Meniscus. My injury occurred against Strafford  on the kickoff team. I was running down the field and made contact with a guy on their kick return unit and that's when my knee gave out and popped."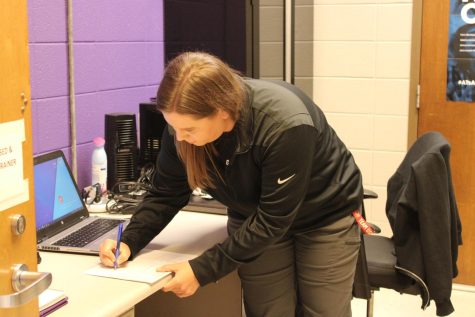 Stevens mentioned that the trainer has been incredibly helpful in his recovery, supplying stretches that he can do to recover more efficiently, as well as always being straightforward with how she felt about his injury. Stevens added, "We are working towards recovery with my knee, but she has done an incredible job with helping me and I can't thank her enough. She is also just a great person who is willing to help out with cuts and putting tape on wrists and stuff like that."
Bradley Blecher (11), a Fair Grove soccer player, has been injured recently. During a soccer game, Blecher had a hard collision with another player. That collision resulted in Blecher being left with a bruised kidney. Fortunately, his recovery is headed in a positive direction and Blecher stated that the trainer was very helpful in his recovery, providing him with whatever he needed to successfully and efficiently recover. Blecher also mentioned that he was very fortunate that the trainer was always there for athletes whenever they got injured or hurt. 
A Fair Grove Football player, Mason Koller (11), injured his leg at the knee on September 30, while playing against Strafford. It occurred when Koller was going in for a tackle and collided with Oliver Hailey (12) at the side of Koller's leg. Koller mentioned how helpful the trainer was in his recovery, saying, "She taped it and told me to take it easy to prevent it dislocating again. I appreciate her willingness to help even when there are multiple injuries on the field." Koller's recovery went well, and he is now fully recovered and returned to play. 
Carson Conrad (11), a football player at Fair Grove High School, was injured with a high ankle sprain. His injury occurred at a JV game in early October when Conrad was shoved down from behind and his ankle was caught underneath another player. Conrad's recovery has been relatively smooth, and he has had no setbacks. He stated that the recovery should take around 10 weeks, but he is assuming that it will be shorter than that based on his recovery so far.
Conrad mentioned that, "The trainer was very helpful with my initial recovery and has since made sure to check in on my injury. She is such a big help! I appreciate how attentive to my injury she has been. She has kept in touch with my recovery and even took the liberty of scheduling my check up with the sports medicine doctor the following week."
When playing a sport students are aware of the potential injuries that may occur, but with a new trainer there are better chances of the injuries not being permanent and having a quick recovery.