Getting a Headstart on Your Career
November 3, 2022
Fair Grove juniors and seniors are eligible to take career courses through Ozark Technical Community College (OTC). Courses are two and a half hours both during the morning and afternoon on campus. 
Fair Grove High School offers a specialty course called Explore OTC. For this course, students travel to OTC's campus and take college level courses. In some of these programs, students can come out of high school with college level certifications and get a head start on an associate's degree. Some of the main programs offered are Automotive and Diesel Technology, Welding, Health Sciences, Culinary Arts, Robotics, and other trades.
Esais Baird (12) is enrolled in Auto Body Repair (ABR), which is a program in the Automotive and Diesel Technology Department. "There are multiple classes in the automotive division of OTC. My classes for the year include Estimating and Management, Refinish Color Application, etc. All of these classes have tons of experience to offer and have amazing instructors. Everyday we are out in the shop working on something different," stated Baird.
He continued, "I believe that the information that I obtain will definitely benefit me later on down the road. At my age, there is always something to learn in the automotive industry." Baird plans to further his education in automotive and pursue a career in Automotive Technology after high school.
Hannah Bruner (11) is enrolled in the Health Sciences Department. "In the first year, we work towards earning our Certified Nursing Assistant (CNA) Certificate, then in the second year we work on pre-reqs like anatomy. I love OTC, I feel it really gives me much better opportunities as well as setting me up to have a successful career at a much faster speed than I would have if I didn't go through the OTC program."
Bruner described what the first year at OTC is like, "You earn clinical hours, and take the classes required to become a CNA as well as medical terminology."
She added, "Second year students earn pre-reqs that you have to get done before you can work on becoming a Licensed Practical Nurse (LPN). Medical terminology is fully online but sometimes Mondays are spent lecturing about medical terms. Tuesdays and Thursdays are spent at clinicals and Wednesdays and Fridays are spent lecturing about CNA class." Bruner anticipates that these courses will help her as she plans to pursue a career in Health Sciences.
Harleigh Scrimsher (12) is also in the Health Sciences Department. Scrimsher is in her second year and is currently taking Anatomy and Physiology. "We do clinicals at the Mercy Hospital and shadow nurses or doctors. For example, so far I have shadowed in a cath lab and got to watch a tavern, which is an Aortic valve replacement, then I watched them do contrast where they shoot fluid into the veins to see what they are looking at exactly," explained Scrimsher.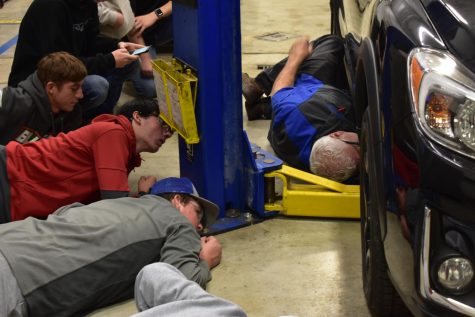 "It starts off your career," said Scrimsher, "It is something I will pursue after high school. So far  I have my CNA and I have been working at the hospital for 2 and 1/2 years now and will work my way up by finishing my prereqs and then going on to get my bachelors in nursing." Scrimsher has a better understanding for what she wants to do because she has shadowed professionals and learned so much from this program. 
"It also helps me figure out if I like trauma or med surg better.  Med surg is just a regular floor where patients are either out of surgery or going into surgery, trauma could be Emergency Room (ER) or the Intensive Care Unit (ICU)," explained Scrimsher. 
These students not only take college level classes, but do so on campus with real time instructors and college students. This can be extremely stressful for the students but can also challenge them. Baird said, "OTC is different from high school because the entire time you are there, you are learning something completely based on your choice or interest. You meet new people all the time and participate in hands-on work daily."
To further learn about these specialty courses and the programs offered, refer to OTC's website or Mrs. Peck (High School Guidance Counselor).