Football Passing the Torch
November 18, 2022
This year's football season came to an end with a loss at the District Championship at Lamar. The record was 7-5.
Prior to the district game, Head Coach Bill Voorhis stated, "The season has gone alright so far. We are still getting better and we are playing our best football at the right time." Voorhis added that despite some setbacks, he has enjoyed watching the team grow and get better together. 
Voorhis expects the team to have learned a lot from this season and carry that over to next year to come back better than ever. He stated that his favorite memory was, "Our kids' reaction to Hayden Carver breaking the single game tackle record."
Kolton Stevens (11) stated, "This season has been filled with ups and downs. We knew we were going to have to overcome a lot of inexperience this year with most of our team having no varsity starting experience." 
However, this inexperience on the team isn't always a bad thing. Stevens said, "These underclassmen have really stepped it up on the field and are becoming great leaders on the team. The two underclassmen that I would like to highlight as leaders are Spencer Sieger (10) and Bryden Baxter (10). These two competed all year to play QB and both have battled back against injuries and I can't wait for what the future holds for these two guys."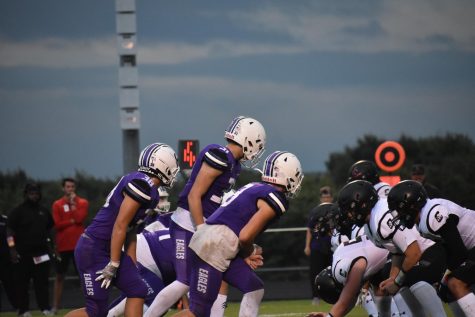 "This season compared to years past has been a little underwhelming. Everyone knew it was going to take some time to start figuring things out, but we have really grown as a team and we are still looking to stay at a championship level," added Stevens. 
He continued, "I look forward to seeing the growth of a very young team heading into next year. The last time we had a young team one year the next year we were one of the top teams in the state. I look forward to having an opportunity to hopefully achieve the same success that team had."
Carson Conrad (11) played on the football team for his first time this year. "My favorite memory of this year was the lock in, it was a great team building event and really helped me feel accepted on the team," he explained.
Looking back on the year, Stevens said, "My favorite memories with the team this year has to be how we have fought against adversity all year. Most teams when they are down would just wave a white flag and give up, but we are a team who fights no matter the score. It's a great honor to be a part of a team that does such a thing."