Fair Grove Basketball Meets the Town
December 16, 2022
On Saturday November 19th, the Fair Grove Boys and Girls basketball teams scrimmaged in the Meet the Eagles Night in the high school gym.
Meet the Eagle Night is an event held by the teams as a sort of look behind the curtains for the parents and fans of Fair Grove basketball before the season begins. The boys team is coached by Bryan Tucker who added "It was a night where we had a scrimmage where we invited our community and parents to come and see our teams play. The varsity teams have a jamboree to get some live experience outside of practice but it is nice to allow our JV and Freshman teams an opportunity to play in front of people before they play a real game."
According to Coach Tucker the boys and girls teams played separately in two shortened games. "They were nothing like a normal game, the teams played three, six minute quarters and the coaches refereed."
Meet the Eagle night allows Fair Grove basketball fans the ability to see what the teams look like before the season officially starts. "The event is important because it allows the community to get a first look or sneak peak at the team to see what we have this year and gives the team a chance to build chemistry," said Blake Winterberg (11), a new addition to the boys varsity team. Coach Talbert added, "It was fun for the team to get to play in front of their family and friends … It was a great way to get the families excited for the season to start."
Players and coaches were in agreement with both groups stating that the event went well, Jennifer Talbert, the coach for the girls team, stated, "All of the girls did a great job at the event. We had been practicing against each other so much so it was a little sloppy. But the girls had fun getting to play with fans in the gym!" Varsity guard Winterberg commented, "The scrimmage went well. We got a chance to have some fun playing against each other…"
The event was followed by dinner, which was open to anyone who felt like staying behind after the action. Coach Tucker explained, "This year, we added a dinner after the scrimmage where we introduced our teams and interviewed coaches and some players."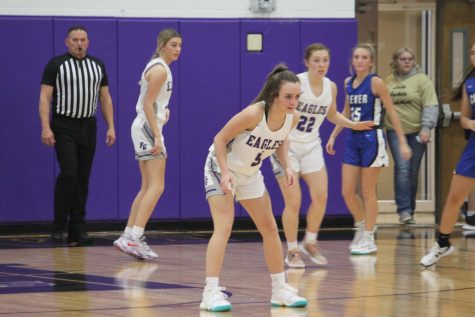 According to Coach Tucker the teams intend to improve the event for next year by getting word out earlier in order to get more students and fans to attend.