Scholar Bowl Team National Competitors!
April 25, 2023
Fair Grove High School's Scholar Bowl Team has recently participated in the Individual Player National Championship Tournament, and is preparing for the Small Schools National Championship Tournament April 29th.
On April 2, 2023, the Individual Player National Championship Tournament was held in Chicago, in the Hyatt Hotel. In this tournament, both Braden Booth (12) and Charlie Harp (11) competed. Booth competed in this tournament in 2022, but Harp was testing the waters of the tournament before competing during his senior year. 
Prior to the tournament, individual players were able to pay an entry fee in order to compete against other high-achieving players across the nation. Booth progressed to semifinals by scoring 14th place, and Harp placed 127th out of 200 competitors. 
The competitors recalled their favorite memories of competing in the tournament. Harp stated, "My favorite part of the tournament was the ability to see some of my friends from all over. One of the people there was someone who I had met earlier in the season, when we went to Glasgow, KY for a tournament, so I wouldn't usually see him. I also really liked having the ability to see how I measured up to some of the best players in the nation." Adding on to that, Booth stated, "My favorite part of the tournament was just getting to see all of the top players in the nation. We all finally got to see each other after playing with each other online for a couple of years."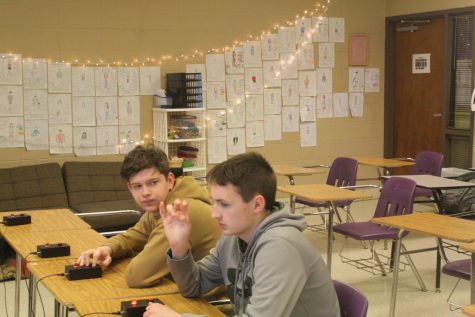 On April 29, 2023 Fair Grove's Scholar Bowl Team will be competing in the Small School Nationals Championship Tournament. This is the team's third year qualifying and playing in the tournament. Michelle Wahlquist, the high school team coach, explained that, "There is a different element in this tournament from others. Two years ago we placed 7th overall and 2nd in the Very Small School division and last year we improved to 4th overall and again 2nd in Very Small School. According to this year's performances and our current national ranking, we may be able to improve even more this year in both divisions! We will see!"
To prepare for the Championship Tournament, the team has been hard at work. Nathaneal Waggoner (11) prefers to use a website that allows the player to buzz in and answer questions while receiving feedback, while Booth has been reading up on multiple packets per day, while focusing on questions similar to those he will receive at the tournament. 
If the team wins Districts and Sectionals, then they will progress onward to play at State, and then the players will begin summer play. The summer tournaments are not directly connected to Fair Grove, and are just various team members playing and preparing for the upcoming season.