Middle School Girls B-Ball Shoots Into Action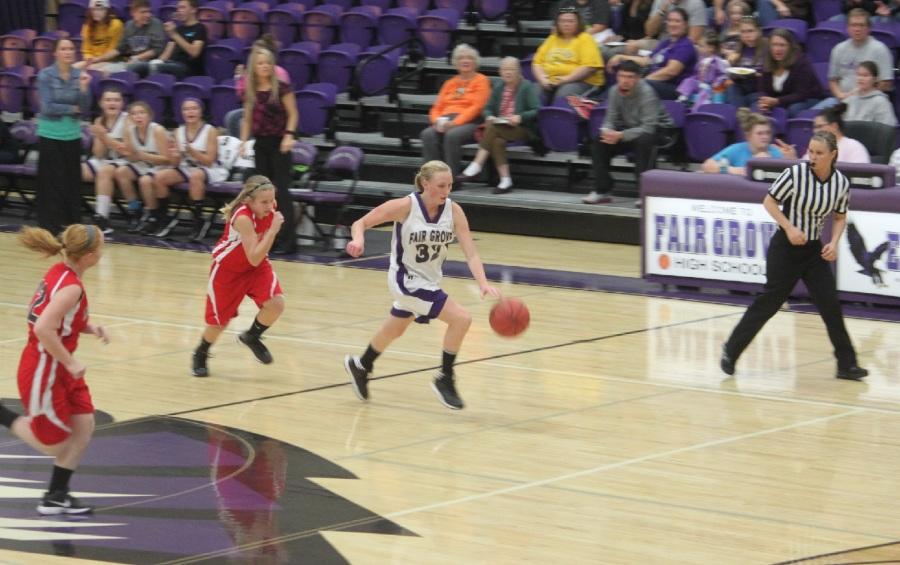 Kyle Cavanaugh, Asst. Senior Spotlight
November 7, 2014
The Fair Grove Middle School Girls basketball started off their season with a 3-0 recorded on both the A-team and the B-team this year with the A-team getting wins over Stockton 50-10, Skyline 46-12, and Ash Grove 74-15, and the B-team getting wins over Stockton 19-11, Skyline 33-21, and Ash Grove 35-25. Head coach Carrie Green says, "This year the girls have been working really hard" she has high expectations for this year. Coach Green feels that their biggest challenges this year will be playing Strafford, Rogersville, and Springfield Catholic; they lost twice to Catholic last year.
Coach Green talked about how this year's A-team is quick and athletic, they thrive when they can put lots of pressure on teams, they like to get up the floor with their quick guards that can handle the ball very well and they like to feed it into the post because they have two very solid players down there.
She also talked about the B-team this year, "This group of girls gets better with every game we play." They listen very well in practice and they always play hard in games.
Their goals in middle school this year are to keep getting better, prepare for High School, and most importantly just to have fun. Last year the Middle school 7th grade girls went 8-2 and the 8th grade girls went 9-6.