Middle and High School Bands Perform Concert in Elementary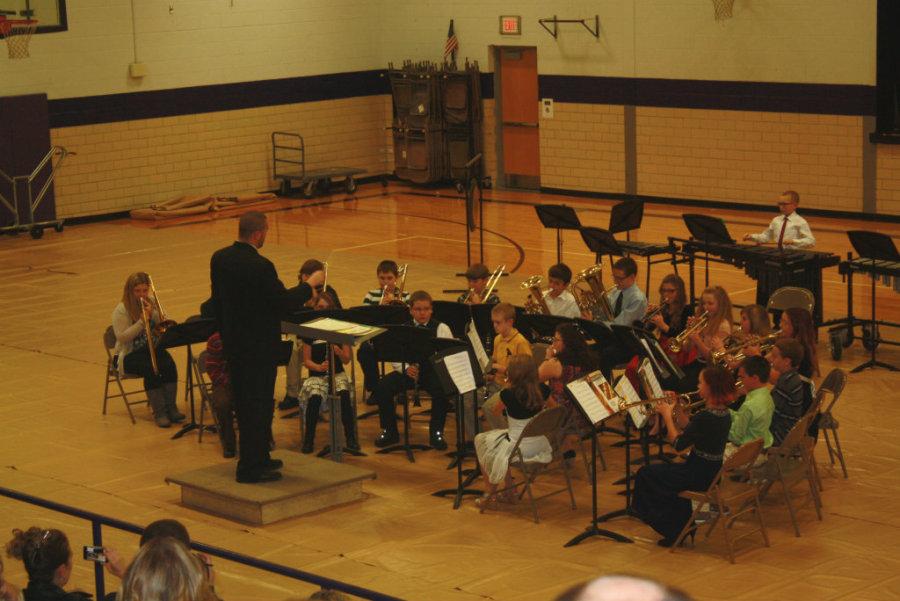 Nick Andrews, Nick Andrews – Page Editor: News
January 29, 2015
On Tuesday, December 2nd, the Fair Grove Concert Bands performed their winter band concert in the Upper Elementary Gymnasium. The band is under the direction of Mr. Corey Lile, who is in his fifth year with the program.
The night began with an introduction by Mr. Lile, and the sixth grade band playing their three selections: Patapan, Little Drummer Boy, and Oh Come All Ye Faithful. The seventh and eighth grade bands combined together to play their three pieces, White Christmas, Two Carols, and Moon of Winter. "The middle school bands have been working really hard on their selections, which they were given in about mid-october," said Lile.
After a brief intermission in order to arrange the concert chairs, the high school band marched into the gymnasium playing God Rest Ye Merry Gentleman, in their parade formation. The color guard also participated in this portion of the concert, under the direction of Lisa Compton. Upon completion of the song, they began the true concert portion of the evening with their pieces Sleigh Ride, Fantasy of Carols, and Ukrainian Bell Carol.
"We've had our pieces for just over a month. We got them right at the end of marching season, and have hit the ground running with them," said sophomore Drum Major, Meagan Holland, "My favorite song was probably Fantasy of Carols, because it was extremely musically challenging, and blended the instruments well. A lot of other students prefered it as well. However, we have played Carol of the Bells for several years now, and it is always a crowd favorite, and fun to play."
Holland added, "We can't complain. I think that the concert went really well. We've been working hard, and I think it showed."