Choir and Band Compete at Solo and Ensemble Districts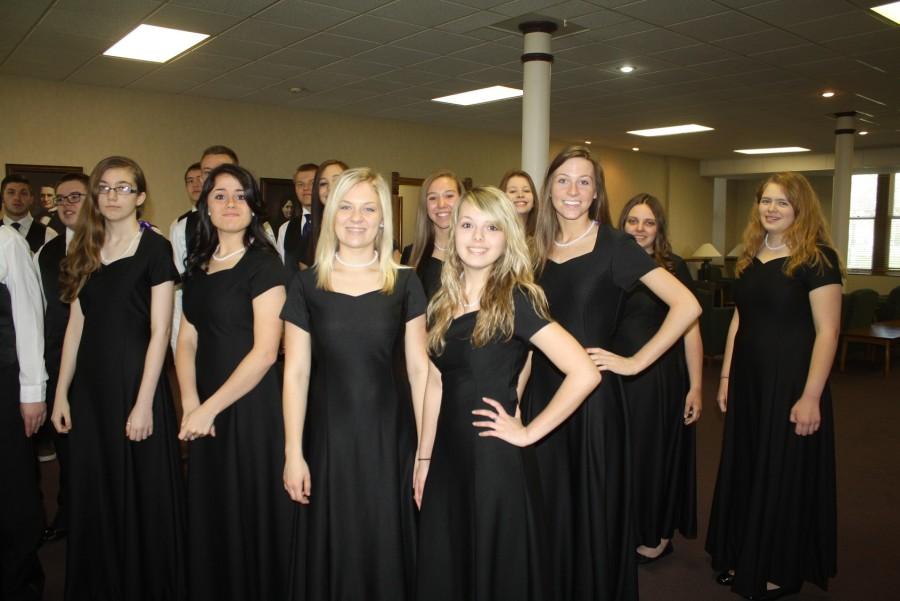 Katelyne Cloyd, Ad Sales / Team Captain
April 10, 2015
On Saturday March 21st, the Fair Grove band and choir competed in district solo and small ensemble competition at Lebanon High School. Ms. Dierkson commented, "They way the competition works for choir is each solo or group has to memorize two contrasting pieces. They perform for a judge and they receive a rating on a scale of 1-5. If they receive a 1 rating they are able to perform at State Music Contest in May."
The choir had four students take solos; Jordan Baskin (12), Jackson Davis(12), Logan Hill (10), and Jacob Buckner (9), and six students in a girls ensemble; Alyssah Everett (11), Meagan Winder (11), Skylar Powers (11), Michelle Elder (12), Chauncey Miller (11), and Mersadie Risner (11). "For me, the goal of this competition is to push students to a higher level of learning. Taking a solo or an ensemble requires extra time and effort that the high school choir class doesn't. They have been preparing these pieces since late December/early January. The goal isn't for everyone to go and receive a 1 rating, rather for each student to go to contest feel like they performed their best regardless of the rating," said Ms. Dierkson.
The choir had two solos take a 2 rating, Buckner and Davis, along with the ensemble. There are also two students advancing to state due to their 1 rating, Baskin and Hill.
The band had fourteen kids compete in solo and ensemble competition. The band had two soloists, Austin Masters (12) and Brian Carroll (9), recieved a 3 ratings and one soloists, Austen Rector(9), received a 2 rating. The band's trumpet trio; Kaitlyn Masters (9), Courtney Patten (10), and Kayla Patten (8), received a 3 rating. The Percussion ensemble composed of Jacob Buckner(9), Jane Elliston(8), Brian Carroll (9), Austin Masters (12), Kaitlyn Masters (9), Brittany Morris (12), Craig Brinkman (9), and Courtney Patten (10) received a 2 rating at districts.