Theater Department Takes the Stage with "Here Come the Brides"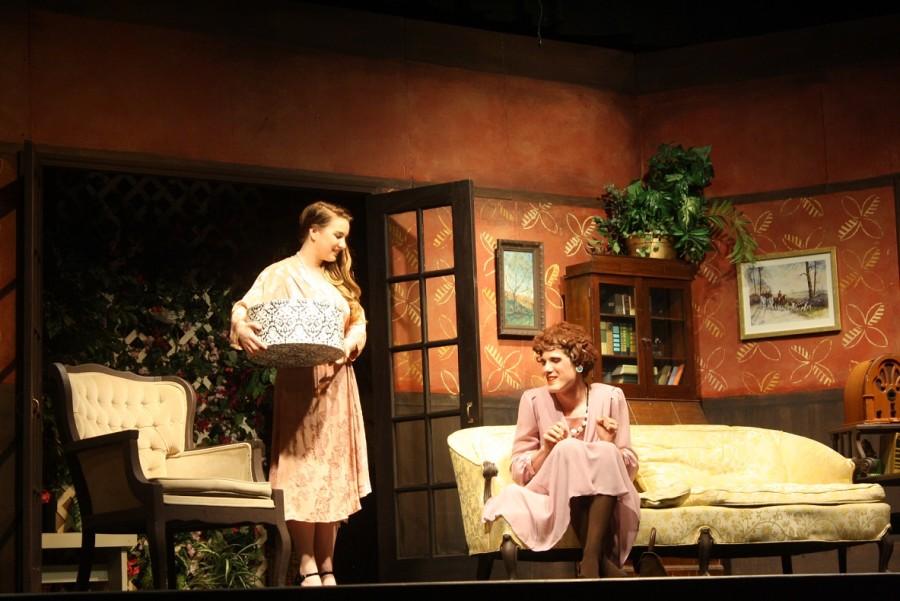 Austin Newman, Editor of Newspaper / Page Editor: Sports
April 27, 2015
On the weekend of Friday, April 24th, through Sunday, April 26th, the Fair Grove theater department performed, "Here Come the Brides." The storyline features Jimmy Took, who accidentally made his Uncle Dan believe he has been married for the past six months and has been receiving large checks because of this. Furthermore, Took's Uncle wants to finally meet the bride, and Took must scramble to find a bride. Moving on, Jimmy is able to find three potential brides, two of which are men, and others who have particularly different backgrounds.
"I am pretty happy with the turnout. It was spread out over four nights so no night was exceptionally large. As always I would love to see more students and faculty there to support the kids but we appreciate those that did come out," says Theater teacher Mrs. Jamie Deckard. "The show overall was funny. Of course when each of the boys came out dressed as women it was funny but there were so many funny lines and scenes."
"The play went well, it was a funny and different script, and the cast overall did a very good job of managing after Courtney Deeds got sick for our last two performances," says Senior Gus Irvine. Irvine played Uncle Dan, and explains that Dan was a strong voiced and funny character, and that he felt good about his performance considering it was his first ever play.
The play featured two casts, with the Afternoon cast performing on Thursday and Saturday, and the Evening cast performing on both Friday and Sunday. The Evening cast featured 11 members, which included Mitchell Johnson (Jimmy Took), Dylan Appleton (Bill Thompson), Brent Shelton (Mr. Oswald), Gus Irvine (Uncle Dan Took), Claire Foster (Aunt Ellen Thompson), Courtney Deeds (Madge Burns), Maegan Holland (Peggy Westfield), Maddie Robinson (Mrs. Duvalle Smythe), Mickie Roberts (Bubbles Duvalle), Elijah Stafford (McDaniel), and Meagan Winder (Lady Macbeth).
The afternoon cast for the play featured Luke Cockroft, Logan Hill, Brent Shelton, Mark Cockroft, Makalie Woody, Bailey Chandler, Chauncey Miller, Micki Hudgings, Bryce Bettis, John Wright, and Riley Evans.