Hark The Herald Eagles Sing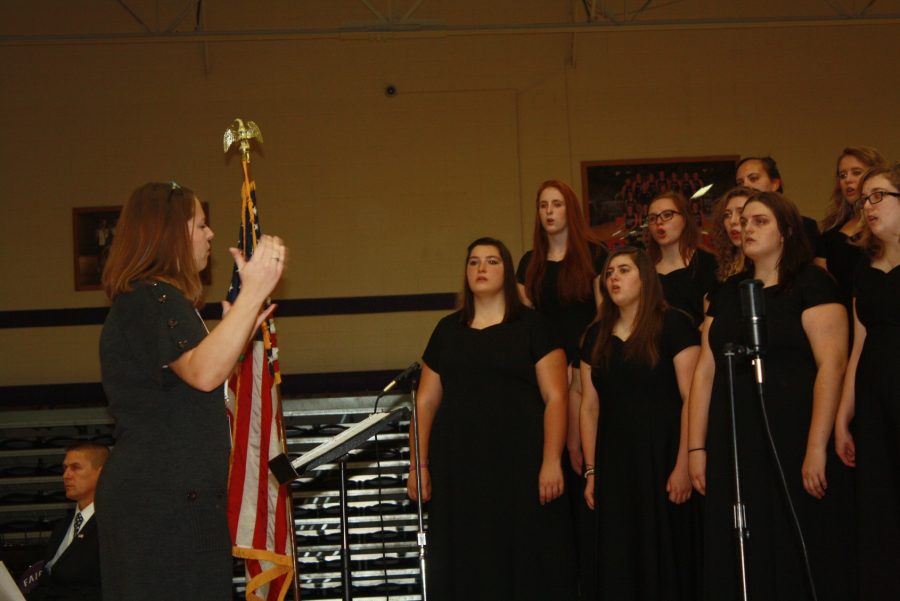 Taylor Brumage
February 8, 2017
On Thursday, December 8th, the Fair Grove High School Choir continued their tradition of caroling. Audra Harmon, the High School Choir Director said, "The choir has gone caroling longer than I have been here. I'm not sure how many years before I came that they started this tradition, but I know we have gone almost every year for the last four years." The high school choir invites the 8th grade choir to go caroling with them. In total there were 43 students participating; 11 eighth graders and 32 High School students.
During the school day, the students travel to different places around the Springfield area singing Christmas Carols, bringing joy to all who hear. The first place the choir traveled to was the Mercy Rehabilitation Hospital. They gathered in the lobby and traveled down the halls singing Christmas Carols, including Holly Jolly, Frosty the Snowman, Carol of the Bells, We Wish You A Merry Christmas, and more. While walking down the halls, patients would sit in the doorway while listening.The next destinations were Manor Care and the Hulston Cancer Center in Springfield. Logan Hill (12), a choir member, says, "I enjoyed going to Manor Care in Springfield because everyone there was nice." Harmon says, "My favorite part of caroling is watching the residents of the places we go to. Music is one thing that can bring us all together, the songs we sing bring back happy memories for the residents and seeing the joy on their faces make it all worth it."
The last place the Choir traveled to in Springfield was the Greene County Courthouse. The Choir gathered around the railing of the dome at the top of the courthouse and sang their carols. "I love listening to the choir sing at the Greene County Courthouse. The acoustics in that building are amazing and we always sound really good there," stated Harmon. When the Choir returned to the school, they traveled around the elementary, middle, and high school to wrap up their caroling for the year.