Courtwarming Was A Ball (Actually, It Was A Dance)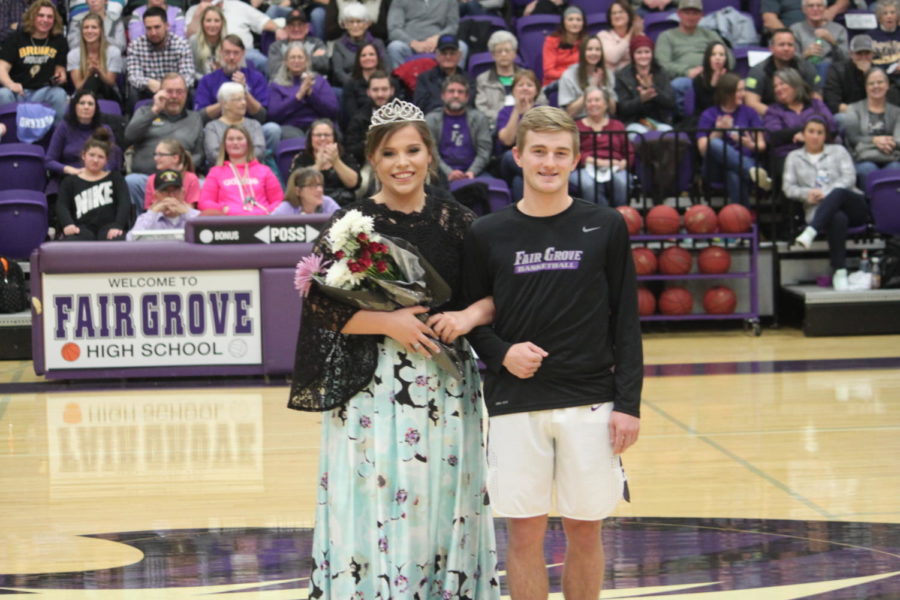 Ryan Odom
January 23, 2018
Notes from the game from staff writer Ryan Odom:
It was a tense night for the Fair Grove basketball players.  It was the courtwarming game and we were up against Logan Rogersville.  Besides districts and sectionals, this is one of the biggest games of the year and we wanted to win; however, so did the other team.
 Junior Varsity played their game first.  The lead went back and forth for the first half but and ended with us leading 26 to 19.  Then at the end of third quarter the score was tied 37 to 37, it was anyone's game.  We tried to take the lead but ended up losing it by six points.  The final score for the JV game was 45 to 51 with Fair Grove losing.
After that, the music came on to welcome out our Varsity boys for their parade around the gym.  More people showed up for this game because this was the big one, the one that really mattered.  The game did not start off well for Fair Grove with Rogersville taking the lead with the first shot.  At the end of the first quarter, the score was Fair grove with 7 points and Rogersville with 22.  The second quarter wasn't any better.  It ended with Rogersville having the same 15 point lead like at the end of first, score 25 to 40.  During halftime the cheerleaders took the floor and did their well performed routine. The Courtwarming Princesses also came out at this time.  The Freshman Princess was Ashlyn Tiller, Sophomore was Bailee Morgan, Junior was Holly Lemon, and the three Senior candidates were Ashley Gravitt, Sierra Anderjaska, and Jordan Coddington.  Then they announced the Senior Princess Jordan Coddington.  She was crowned and the game was back on.  
We started to close the gap during third quarter, ending with Rogersville only having a seven point lead.  The score was now 40 to 47.  We were gaining and the people knew it.  The crowd was going wild.  Every time someone scored there was a giant eruption.  This died down in the last few minutes of the game as we Rogersville widened the gap even more to a 19 point lead in the 4th quarter.  Fair Grove ended up losing the Varsity game too, 53 to 72.  
Even after the devastating loss, people were still able to enjoy themselves during the 5th quarter with pizza, soda and laser tag.  There was also a Christianity talk after 5th quarter with Principal Stallings and Mr. Foster talking about their own life story.  The fun went on until after midnight when kids had to go home.  The next night was the semi-formal courtwarming dance.  The theme was mascarade.  People were sporting their masks and elegant clothing while having a good time dancing and getting some free food.  All-in-all it was a night to remember.