Choir's Introduction to Fifth Grade Musicals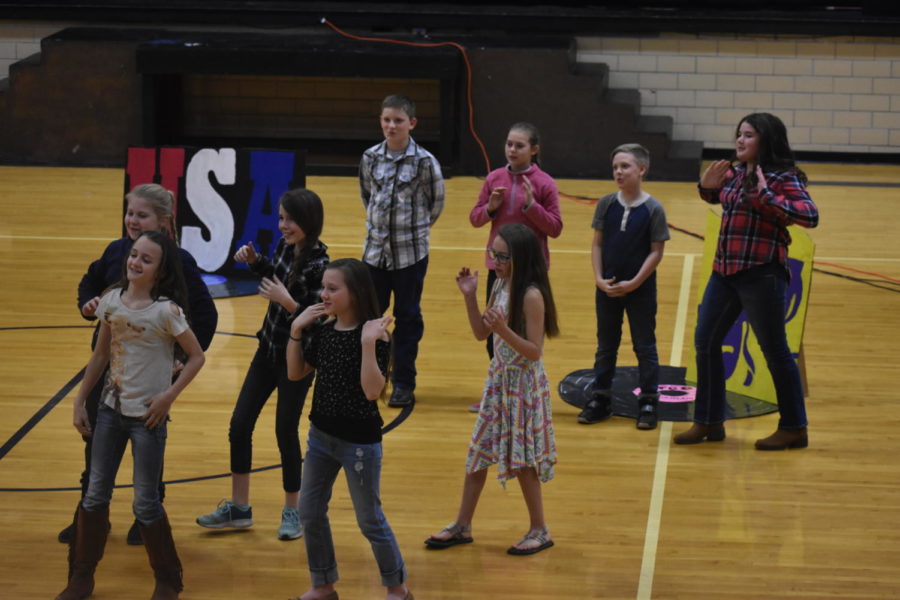 Thomas Bruemmer
April 16, 2018
On Friday March 2nd, Mrs. Harmon's fifth grade choir students performed a selection of songs in the upper elementary gym. The cinematic musical, called Destination America, started at 6:30 PM, and lasted for nearly twenty minutes, ending right at 7:00 PM. The musical was performed by 15 hard working, 5th grade choir students,  Mrs. Harmon, the 5th through 12th grade music and vocal teacher, was at the forefront of the production, and organized the event; including the preparations, and direction of the 5th grade choir students. "They have been preparing for the entire quarter by learning lines, songs, and dances," said Harmon.
The choir performance consisted of the six following songs, in order: Destination America, Hitsville USA, That's Why They Call it Country, Go Go Go Guitars, All Aboard  for Broadway, It's American as Rock 'n' Roll. Destination America was also performed again as the final song to end the night. With the theme of the performance being 'Destination America' each song co-aligned with an American tourist destination that represents the style of music that was being performed.
Mrs. Harmon saw this performance as an opportunity to broaden the range of the middle school choir performances. "This seemed like the perfect opportunity to try something new with my fifth grade class," stated Harmon. For the past several years, Harmon has had her summer school students perform in musicals, so she decided to introduce a musical into her school year class. Harmon included, "I have been having my summer school classes participate in musicals for the last few years, and thought it would be a great addition to our regular school curriculum." This addition of musicals into the choir program will provide several benefits to the Fair Grove students in her class. These musicals can teach the students to express themselves for the better, and encourage them to perform in front of people, and annihilate stage fright. With Harmon's introduction of musicals, the middle school choir program might just benefit from the expanded curriculum options.