Singing Through Spring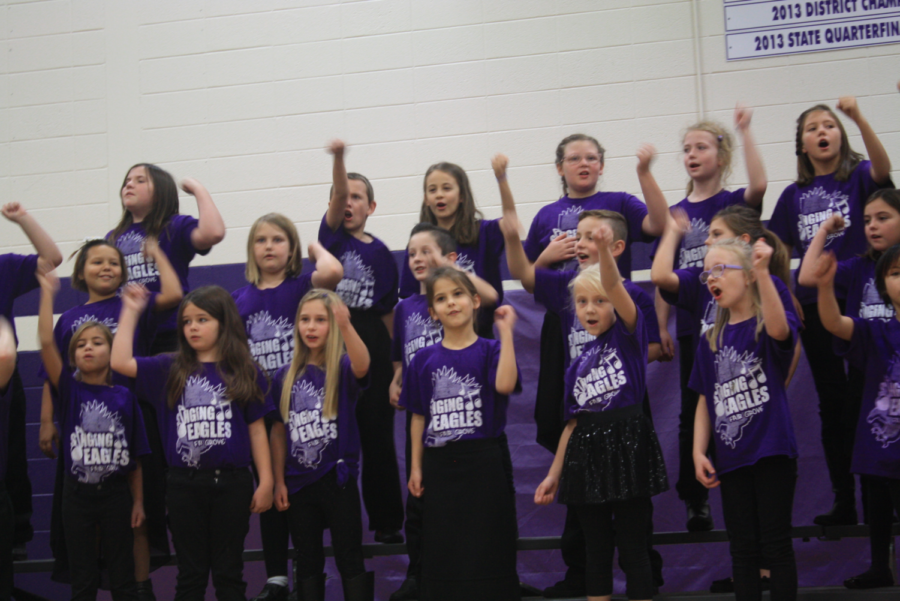 The Singing Eagles had their spring concert on April 5th at 7:00pm. This event was held in the upper elementary gym, and it went on for about an hour and a half.
This young group of singers practice every Wednesday morning at 7:15am. The choir is made up of about 50 kids. Grade wise 3rd and 4th graders are in this group. At the spring concert the elementary student sang a collection of songs.
All the songs that were performed at the spring concert were 2 part songs, which are typically performed starting in middle school. The Singing Eagles sang " Like to Sing, Skip! Skip! Shoo, Fly, Shoo!" by Lorenz Corporation, "Shine Your Light"  by Robbie Robertson, "Colonel Bogey's Grand Old Flag!" by George M. Cohan, and "This Ol' Man" by Gregg Gilpin. Mrs. Sparks, music director of the Singing Eagles choir, commented, "I think the singers favorite song was Grand Old Flag because we added kazoos to it." Mrs. Sparks has been a dedicated music instructor for over 20 years at Fair Grove now.
Due to time conflicts, the choir wasn't able to sing at the Fair Grove Music Festival. The next performance that the Fair Grove Eagles will be attending is at the St. Louis Cardinals game on July 15th. Tickets are still available, but they are selling fast. If anyone would like to attend the game, then contact Mrs. Sparks as soon as possible. Mrs. Sparks stated, "This years group of seniors has done an amazing job! I hate to see this talented group move on, but can't wait to hear them perform in middle school, and then high school choirs."