A New Year Brings a New Coach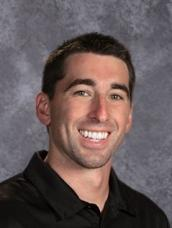 The Fair Grove High School boys' basketball head coach, Tim Brown, recently announced that he is leaving to be the head coach of the boys basketball team at Republic High school. The new boys Varsity Head coach will be Coach Cale Ramsey.
This is not the first time Coach Ramsey will be employed here at Fair Grove High School. He was hired as a para-professional and assistant boys basketball coach during the 2012-2013 school year. He has since been employed at Republic High School as the head boys basketball assistant coach. Coach Ramsey was hired as a PE teacher and the head boys assistant basketball coach at Logan-Rogersville High School. He also coached the Middle School football team and the High School boys tennis team. With his success as an athlete himself, it is not a surprise that Coach Ramsey has had success with the many teams he has coached.
According to the Logan-Rogersville website, he graduated from Republic High School as a 4 year golf letterman, qualified for state in golf, 3 year basketball letterman, and the record holder for most assist in a single game. He attended Evangel University where he continued his success on the golf and the basketball teams. For basketball, he holds the all time steals record for a career, fourth most all time assists in a career, defensive player of the year for 2011, all conference for 2010-2012, all american for 2011-2012, and three national championship appearances.
The switch from Coach Brown to Coach Ramsey has impacted most of the basketball players as well.  David Oplotnik (10) states, "I look forward to learning new plays and new skills that a new coach can bring out of me. It will affect me in many ways, it will bring more diversity to my gameplay as well as make me a better player."  Another player on the team, Elijah Phifer (12), said, "I'm excited to see what Coach Ramsey is going to bring to the team and his coaching style. Coach Brown was loved and we wish him the best, but it will be interesting and exciting to see the similarities and differences in coaching philosophies between Brown and Ramsey."
Coach Ramsey is a welcomed addition to the coaching staff at Fair Grove. He brings many skills, talents, and successes to the table. With his talent, the community's support, and the talented players on the team, the 2018-2019 basketball season will no doubt be a very successful one.