5th and 6th Graders Sing Loud in MS Honor Choir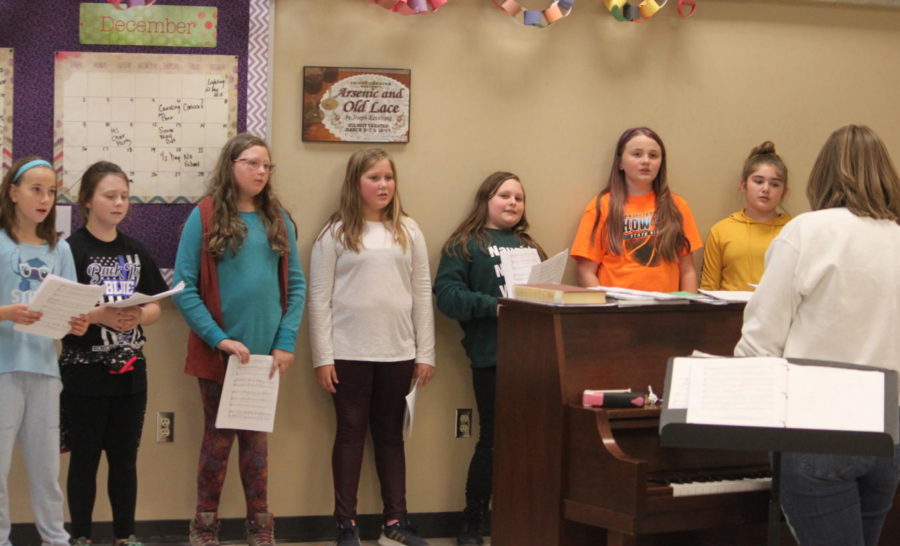 Nate Brigman
November 16, 2018
The Middle School Honor Choir is an exemplary example of Fair Grove Middle School's numerous extracurricular activities for students to take part in. The Honor Choir has been an option for interested and musically inclined early middle school students for a total of four years.
The Middle School Honor Choir was set in motion by 5th through 12th grade vocal music teacher Audra Harmon. Concerning the establishment and evolution of the program, Mrs. Harmon remarked, "I started the Middle School Honor Choir about 4 years ago. When it started it was a 5th grade through 7th grade choir, because at the time I had 8th grade choir first hour. Now that my schedule has changed, I was able to split the 7th graders out of the Honor Choir and keep it only to 5th and 6th grades. It has been that way for the last two years."
The amount of students that choose to participate in Middle School Honor Choir changes yearly based on interest and availability. "I think we have about 15 in the choir this year. That number fluctuates every year," stated Mrs Harmon. The choir is filled with hard-working students, and two that stood out to Mrs. Harmon are 6th grader Luke Engel and 5th grader Cheyenne Miller.
The Honor Choir runs through any upcoming event or performance material and music during each rehearsal. Rehearsals take place every week on Thursday from 3:15 to 4:15 PM in Mrs. Harmon's room in the Middle School. Currently the boys and girls are practicing their performance for their Winter Concert, which will take place on December Seventh at 7 PM in the Upper Elementary Gym. This performance is also being combined with the High School Choir Winter Concert.
For further information about Middle School Honor Choir or any other choir events, contact Mrs. Audra Harmon a 417-759-2554 Ext 306 or email her at [email protected]