Kindergarten Thanksgiving Tradition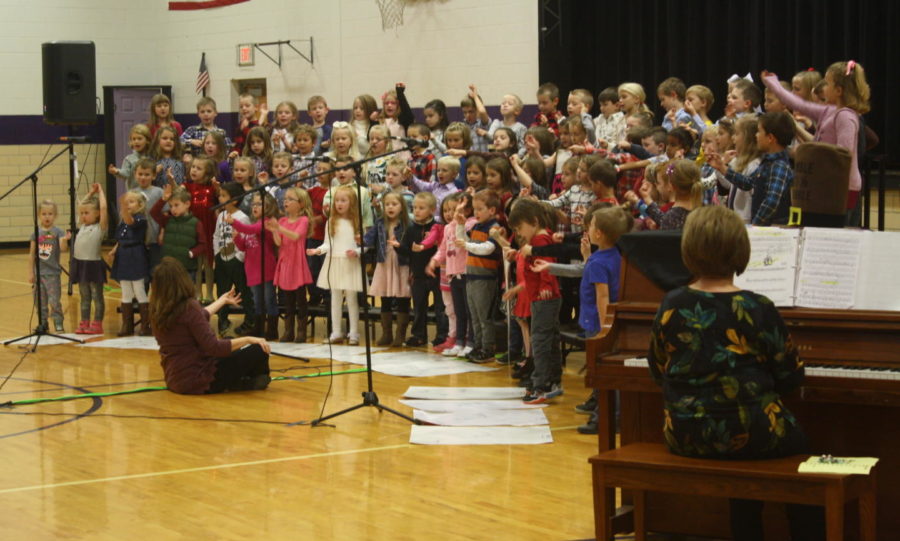 Michael Steineke
November 16, 2018
Every year at Fair Grove Elementary the kindergarten students put on a Thanksgiving play lead by Heather Lumley, the elementary music teacher. This year the play took place on November 8th. They sang a variety of songs while performing a couple of dances too. This years play was the biggest yet, it consisted of about one hundred kids and five teachers. This play has become a tradition at Fair Grove, and has been going on for about 25 years now.
The program is always a big hit with not only the kids but the families of the children as well. Mrs. Lumley said, "There is nothing more heartwarming than hearing little children sing songs about Thanksgiving and what they are thankful for."
She added, "Even if they make a few mistakes, no one cares because they are adorable children.  In fact, that sometimes becomes the most memorable part about the program."
The children started practicing for the play back in September. They would practice during their music class time with Mrs. Lumley. They would sing and learn their songs along with dances and other actions to go with them. During the week of the program the kids all got together and practiced on the risers to prepare for the play. This is always the first program the students do at Fair Grove which is why Mrs. Lumley always looks forward to it.
The play was called "Gobble Till Ya Wobble".  They sang "Five Fat Turkeys", "Hello Mr. Turkey", "I'm a Little Indian", "I've Got a Buckle on my Shoe", "The Mayflower", "Turkey Dinner", and "Over the River and Through the Woods". Some recently added songs to the program were "Thankful for the USA" and "Turkey Named T." The play lasted about twenty minutes. Mrs. Lumley said "I thought the children did a wonderful job! They sang out nicely and were well behaved."