Moving on to the Next Chapter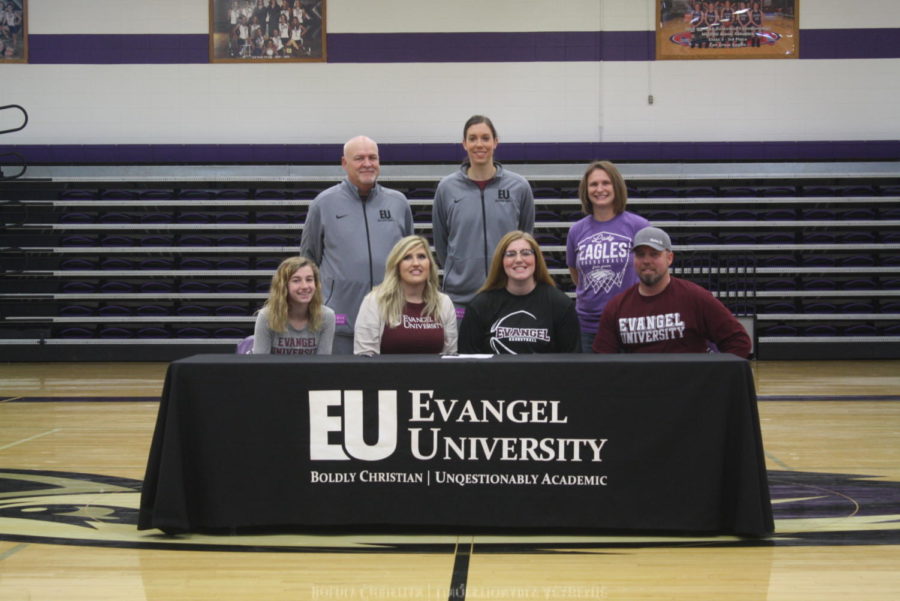 Olivia Prince
November 16, 2018
Three Fair Grove Lady Eagle basketball players made the final decision on November 14th, 2018 to continue their basketball career into college. "College basketball will definitely be a challenge and it will be tough, but it will also be one of the most rewarding experiences of their life," said head basketball coach, Jennifer Talbert. Alana Findley (12) signed to play at Drury, and Harley Maxwell (12) and Lexie Sutherland (12) signed to play at Evangel.
Alana Findley has been playing basketball for eleven years. Her main position is the power forward. "Being the power forward I am able to play both inside and outside the lane. My main jobs are to rebound and make inside shots, but I am also able to play outside the lane and handle the ball," says Alana Findley. She has set many goals for herself for her last high school basketball season, including becoming an all around better basketball player. To achieve this, she will become more versatile and be able to play multiple positions. In college, she hopes to contribute her best to the team and have winning seasons.
Harley Maxwell has been playing basketball for thirteen years. She is going to Evangel to major in education to eventually become a teacher. Harley said, "I play the five position, which is a post position. It basically means that all of my points are scored under the basket." In college, Harley hopes to be a big help to the team and extend her game to where she can not only score under the basket, but also make some outside shots as well. Harley's biggest goal is to eventually be All-American in her division.
Lexie Sutherland has been playing basketball for eleven years. Her main position is the shooting guard. Lexie has many goals for herself: "I want to make the starting five. I want to make everyone around me better. I want to be a great teammate. I want to always have a positive attitude and the best work ethic. I want to be a role model in the classroom." Lexie is not looking to just succeed athletically, but also academically.
Coach Talbert stated, "They have been a tremendous impact in our high school program. Each one of them brings something different to the team and we need each of them to be successful. They have set the standards high for teams to come. I've been blessed to have been their high school coach for their entire high school careers."
The girls have made many memories together. Alana and Lexie both said that their favorite memory so far was when Lexie said "We can do it, we only have 19 minutes of practice left!"However, they really had an hour and 19 minutes left of practice. Coach Talbert added that she would love to see them finish off their high school careers with more great memories on and off the court.