Indoor Soccer Helps Prepare Fair Grove Girls For Outdoor Season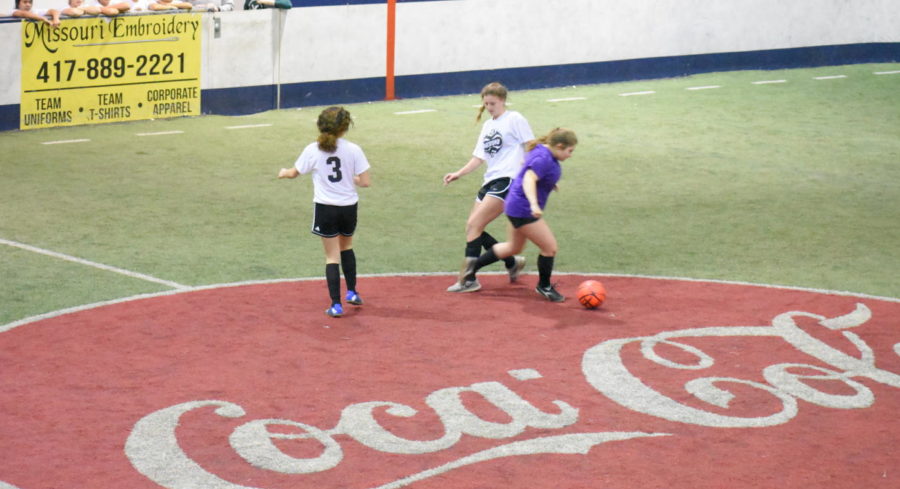 Harley Maxwell
January 23, 2019
The Fair Grove Girls High School Soccer team will kick off their upcoming outdoor season soon on February 28th. To prepare for their season the girls have been playing indoor soccer since November. "Playing indoor is great preparation for outdoor soccer. The kids have a chance to build team chemistry, get touches on the ball, and compete against other schools in an organized environment," said Head Coach Joseph Florez.
The girls played two sessions. The first session was just for the returning players from the outdoor season last year. Macey Stallings a returning senior captain and a main cog for the eagle offense comments, "It really helps the team polish up our fundamentals before season, and find chemistry between certain players." The second session is a mix of returners and newcomers split equally onto the two teams, Eagles Purple and Eagles White.
Indoor season has been very helpful for the soccer program here at Fair Grove. Instead of having the majority of the team show up after not having played for a year, they show up having just played one or two sessions of indoor, so they are often times in mid-season form before the Spring season even starts. Also helping Coach Florez out is his father Bob Florez. Bob is the coach of both the purple and white indoor teams. "It's a great thing having my father coach the indoor teams. We have similar views on formations, rosters, and generally we think alike when it comes to talent evaluation and teaching methods. MSHSSA rules do not allow me to coach our winter offseason programs, so this is absolutely the next best thing," said Coach Florez.
Both teams play their games at Lake Country Soccer in Springfield, Missouri. The Lady Eagles have their next game Saturday, January 26th with Eagles White playing at 8 a.m. and 1 p.m. and Eagles Purple following at 5 p.m.