Maxwell's 1000th Point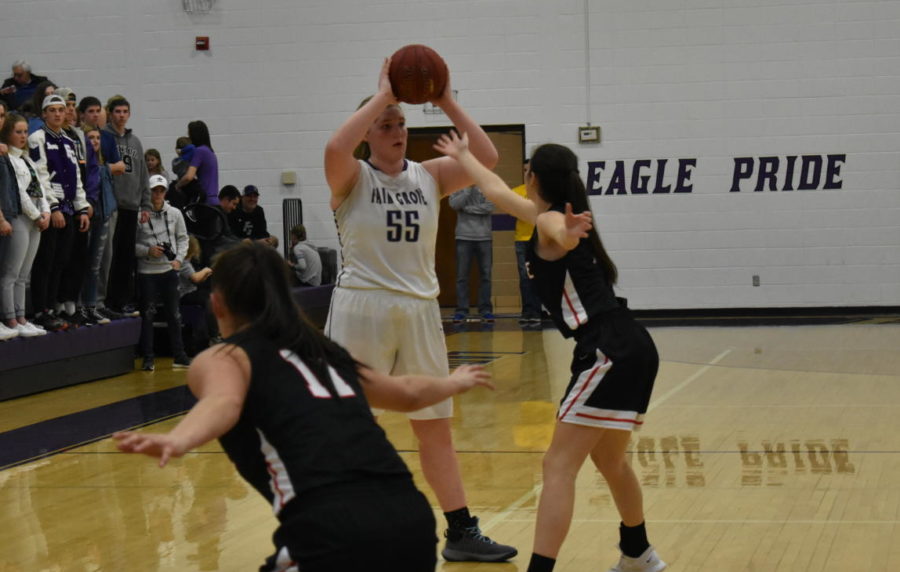 Kayla Hodges
January 28, 2019
On December 29th, 2018 Harley Maxwell, a senior at Fair Grove High School, scored her 1000th point in the Pink and White basketball game vs. Lutheran North. The Pink and White is a local basketball tournament hosted by MSU (Missouri State University) which showcases high school teams in the Springfield area. Harley is a four year veteran to the basketball team here at Fair Grove, and she has played with the varsity team all four years.
On January 17th, 2019 at a basketball game hosted by Fair Grove against vs. Blue Eye Harley was honored by Coach Jennifer Talbert, Fair Grove's girls basketball head coach and Physical Education teacher. The honoring happened in between the junior varsity game and the varsity game, Harley was awarded a painted basketball congratulating her on her 1000th point by Coach Talbert. Harley has taken on more leadership this year as one of the team captains, "We expect her to help keep our team focused and help us to accomplish our goals," said Talbert.
"Harley  has improved every year she has been playing," Talbert commented, "We rely on her for scoring, rebounding and solid defense in the lane. I have been very proud of how much she has improved throughout her high school career," she added.
Maxwell will be continuing her basketball career and has signed to play college level basketball at Evangel University in Springfield, MO. "Scoring 1000 points in your career is a really impressive thing to do and I'm so proud of her for accomplishing that," said Talbert.
With 6 games left in the season  Talbert is "looking forward" to seeing Maxwell finish out her final year on the Lady Eagles basketball team. "I have enjoyed seeing her grow as a leader and look forward to seeing her help us make a run at a Conference and District Title," Talbert stated, "When she is in college I'm excited to be able to cheer her on and I will enjoy watching her compete at a higher level," she added.
The Lady Eagles Basketball team has their net game on Tuesday, January 29th, at home against Springfield Catholic.