Girls Spring Soccer Kicks Back Up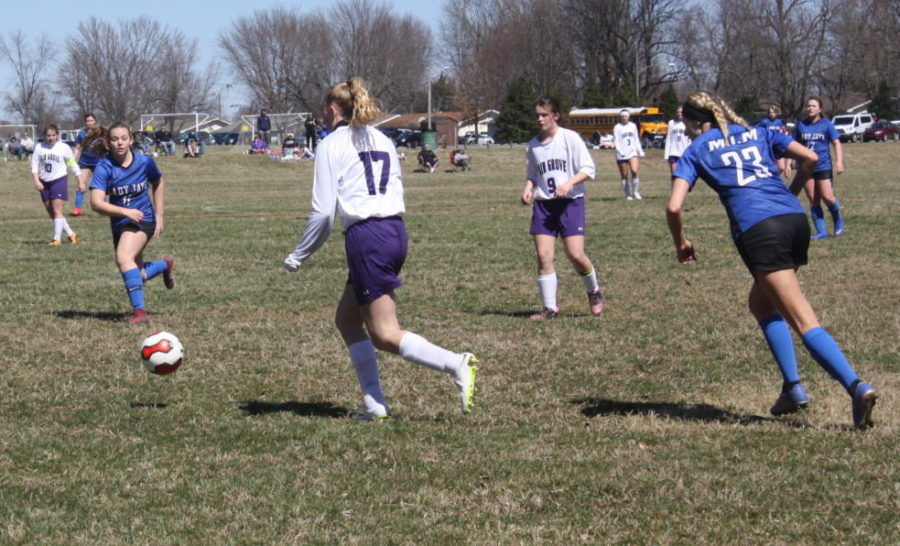 Jacob Morelan
March 20, 2019
On February 25th, 2019 the Fair Grove girls soccer team had their first official spring practice; however this won't have been the first time that the team has practiced and even played together. Having just finished their second session of indoor not only has the team gotten a valuable head start on foot work and practical skills they've also already started building a team chemistry.
Even with this kind of head start with a new season and new people joining, comes touching up on basics for some of the girls and learning them for others. Head soccer coach Joseph Florez stated,"[We] run and do drills. We have a lot of kids that are new to soccer (12 freshman), so we are really hammering fundamentals in an effort to acclimate them to soccer. The new kids are mostly multi-sport athletes that work hard and are very coachable, and so we do think that they will make huge strides throughout the year."
This year coach Florez's goal for the team is mainly to have fun, continue improving as a team, and to win games, he said "…Realistically we feel like JV has a great chance to show huge strides and end the year ready for Varsity minutes going into next season, and we think out Varsity realistically should have an opportunity to get back to the district final and try to win our first District."
While believing that this is a realistic goal he also said, "We will play a ton of competitive games this year, against very good teams…"
Florez mentioned teams like, Monett,  Aurora, Greenwood, New Covenant, and Laquey.