FGHS Speech Team Takes a Bow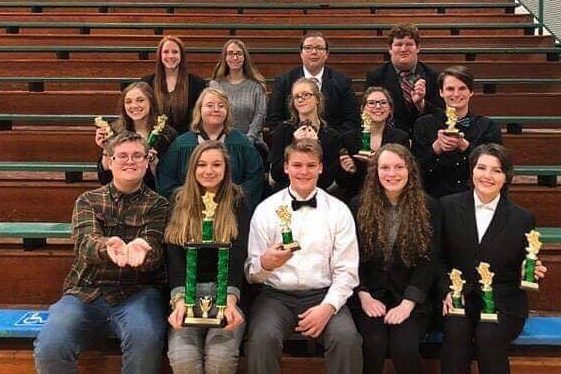 Taylor Brumage
March 20, 2019
The 2018-2019 FGHS Speech and Debate team has made a huge statement and placed top five in half of their competitions overall as a team. This season, the team attended four competitions including Reeds Spring (1/26), Clever (2/02), Bronaugh (2/09), and some of the team even qualified for districts at Central High School on March 1st.
The team's hard work and endless hours of pacing up and down halls and talking to walls definitely showed. Fair Grove broke through and had 5 events advance to finals. Georgia Whalley (11) went to finals with Poetry (3rd place overall), Prose (2nd place overall), and Dramatic Interpretation (2nd Place overall), Kayla Hodges (12) placed 1st overall in Dramatic Interpretation, and Senior Emma Hackett placed 1st overall with Program of Oral Interpretation. With a handful events going to finals and placing highly, the team took 4th place out of 17 schools.
Their second competition took place at Clever with 13 students attending. Freshman Miracle Tracy and Senior Kayla Hodges broke into finals and places second overall in Improvisational Duet Acting and Georgia Whalley finished second place overall n Prose and Dramatic Interpretation.
Jumping into the third competition of the season, the team had a breakthrough of 15 events into finals with 8 students and multiple of them being double and triple entered. The team dramatically showed off their countless hours of practice and winning the sweepstakes award and taking 1st place overall.
This season, the team took 8 students to districts at Central High School on March 1st. They arrived at 2:30pm and were ready to compete. Districts continued 11:00pm. Fair Grove made huge accomplishments and 7 events advanced to finals at districts. Dane Psyhos (11) advanced with Radio Speaking taking 7th place overall. Dane also advanced with Bria Jones (11) in Duet Acting and took 6th place overall. Also advancing is Junior Autumn Stuart in Humorous Interpretation 6th place overall. Taking 8th place overall with Storytelling in Finals is Kayla Hodges. "Being my last tournament, districts was very bittersweet this year. A lot of sad and happy tears were shed, I hadn't really accepted that it was over until the last second," Hodges stated.
At Speech and Debate Districts, being entered in Finals more than once is definitely challenging. But Fair Grove's students have proven that it isn't possible. Georgia was triple entered in the District finals. At districts, all events that place 1st-4th place qualify for state except Extemporaneous Speaking. Georgia took 5th place in Dramatic Interpretation, 7th place in Poetry and 2nd place in prose and earned herself a spot at Speech and Debate State and broke a record for being the first student from Fair Grove to be triple entered in District Finals. Georgia will attend State at Missouri State University on April 13th, 2019.