Fair Grove Students Strike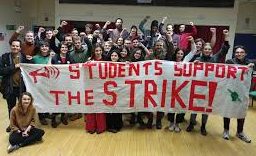 (Editor's Note: This article was posted on April 1st as an April Fools joke. Since it is still being shared post-April 1st, we want to make sure that everyone knows this was a joke.)
Fair Grove students are planning a school strike on April 8th until cell phones are allowed in school. All of the student body plans to participate in the walkout. Chris Stallings, Fair Grove high school principal said, "I don't appreciate the fact that they find it humorous to walk out of school, avoiding their education, to plan a walkout just to voice their opinion on having cell phones in the school."
There are many reasons why the school discriminates against having phones in the school building such as bullying, social media issues, and focusing on education purposes.
The counselor for the high school, Tonya Peck, voiced, "I find it astonishing that the student are able to voice their thoughts. However, it is inconvenient and disrespectful for the staff."
The school has allowed the students a certain amount of time to stand outside of the school, and a specific place to stand. Although, the students plan not to obey the schools orders. Tonya Peck added, "We are concerned about how poorly the students are taking this. The Freshman especially. Knowing that they were able to have their phones out in school then a few months later hearing that phones will not be allowed in the school took them to a different level."
All 9th grade has had the opportunity to opt out of the strike, but they were the ones who had the idea of the walkout.
"Once we heard that we weren't allowed to have our phones in the school, we were mad. All of our middle school years we were told that we were allowed to have our phones in high school. These were the years we were looking toward to. I mean, look at our generation, we're glued to our phones," Ryan Bates, a freshman boy said.
The students use their phones for communication between family and friends, but have been considered to take advantage of the use of their phones in school. The staff complain about the usage of cell phones while they're teaching. Fair Grove compromised for the teachers purpose and decided to ban cell phones all around. Once the Student Walkout is finished, the students will continue with their normal routine without their cell phones. Phones will be allowed in the school building for emergency purposes, yet must be left in the office, and students may ask permission before use. If the students are caught with their devices, parents must come to the school to pick up their child's phone and discuss the consequences with the school's staff.