Fair Grove High School Hosts MLC Science Bowl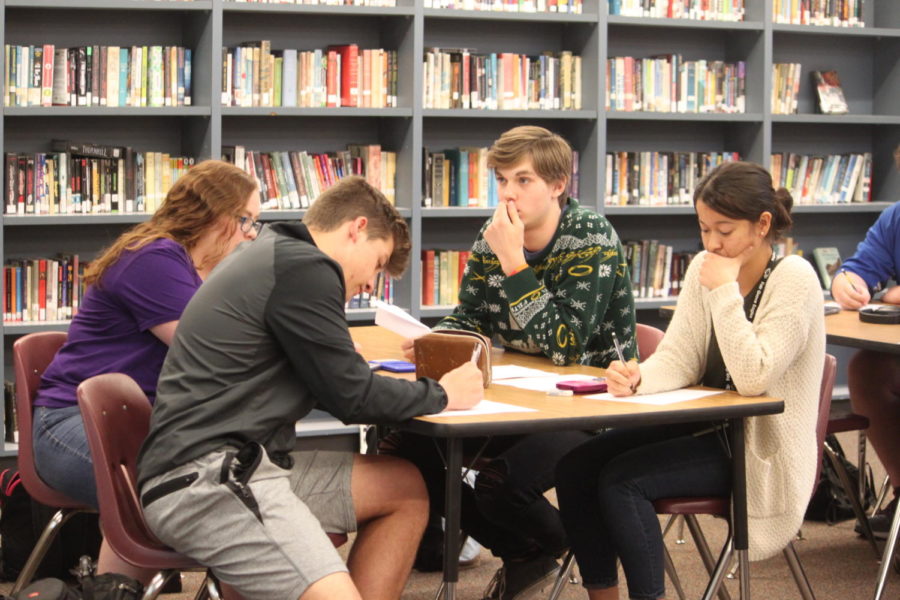 Macey Stallings
April 8, 2019
On Wednesday, April 3, Fair Grove participated in, and hosted, a science bowl for nearby schools to compete in. The competition took place in the High School Library from 2:00 to 3:30. The participating schools included: Forsyth, Strafford, Skyline, Stockton, and Fair Grove.
Participants where in teams that consisted of four players who would collectively answer the questions on a sheet of paper. There were a series of 90 questions that were split up into three rounds of 30 questions. Teams were given 30 seconds to answer each question. The questions were purchased from a reputable source and put into a PowerPoint. Topics of the questions included: biology, anatomy, chemistry, physics, and earth and space.
Fair Grove had two teams participate in this science bowl. Team A included: Federica Roncalli (12), Grant Squires (11), David Oplotnik (11), and Riley Cavin (12). Team B included: Jane Elliston (12), Mitch VanCleave (10), Darin Oplotnik (11), and Madilyn Barker (11). Team A placed first and Team B placed fifth out of nine teams. Fair Grove's participating students were selected by high school science teachers, Mr. John Foster and Ms. Sarah Brannock. "Selection was based upon how many science classes the students have or are currently taking, as well as, who had one of the highest grades in their current science class," said John Foster.
"A lot of the time when you get out of a class you don't use any of the information you've learned; however, during the science bowl you can use that information and feel proud of yourself for still retaining some of it" said Mitch VanCleave (10).
As far as preparation goes, taking general science classes and trying to get someone who is currently most knowledgeable in every subject of science is key. The team's success was based supremely on the performance of these students and the knowledge they retained.