Choir Sings Their Last Note of the Season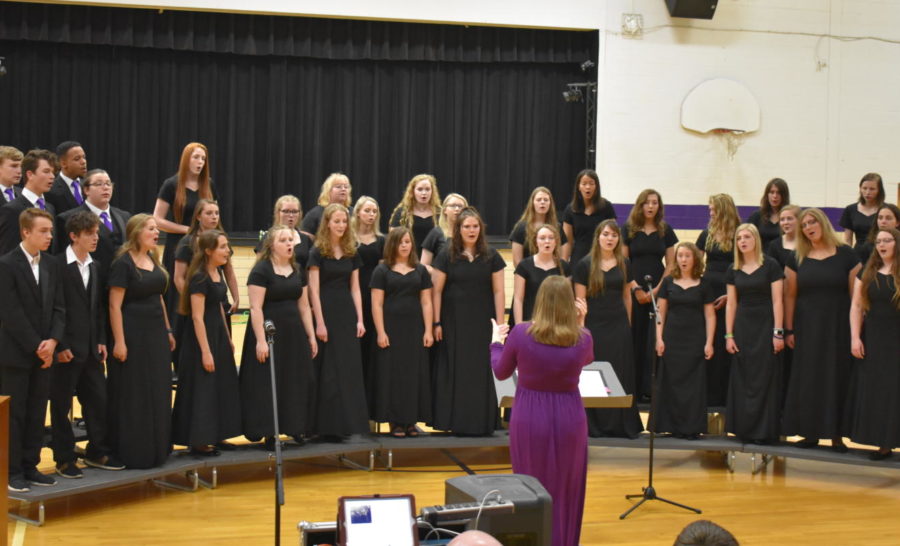 Taylor Brumage
May 8, 2019
On Friday, May 3rd, 2019 the High School Choir performed at their last concert of the 2018-2019 school year. The Choir performed in the Upper Elementary Gym at 6pm. The evening included solos that were performed at Districts and even State. These included Jacob Morelan (11) singing "Into The Night" arranged by Clara Edwards, which received a 2 rating at Districts. Jade Walker-Haumann (11) performed her solo "Christopher Robin Is Saying His Prayers" arranged by H. Fraser-Simpson also received a 2 rating at Districts. The last solo of the night was Ben Hamilton (11) singing 2 pieces, "Gia il sole dal Gange" arranged by Antonio Scarlatti and "Gambler's Lament" arranged by John Jacobs Niles.
After the soloists performed their pieces for friends and family, the choir followed up with the songs they have been working hard to showcase for the audience. The choir performed eight songs, some of which included "Didn't My Lord Deliver Daniel?" arranged by Greg Gilpin, "One Note Samba" arranged by Roger Emerson, "Stars I Shall Find" by Victor C. Johnson, and "Betelehemu" arranged by Andy Beck. Many of these songs will also be performed in the upcoming trip to Florida with the Marching Band and Color Guard.
The graduating seniors of 2018 that participated in choir began a tradition for the next group of graduating seniors to keep passing on through the years. They put music that the choir sings every year in a folder and they signed the music with their name and graduation year. The folder was passed on to a current junior that will be a senior choir member the next year so that they can carry on the tradition the following year. Senior Emma Hackett stated," I love this tradition even though it hasn't been long, I love the idea and I'm glad to be a part of the program!"
Also on the list of traditions is to close the last Choir Concert with "Just a Single Voice." There are 5 solos in the piece and the seniors get to shine for one last time in the very last song. Before the seniors start their last song, the Choir Director, Mrs. Audra Harmon presents the seniors and recognizes them for their hard work and dedication to the program. The Choir then sang their final song of the season as it came to a close.