FFA Banquet Brings 18-19 Season to a Close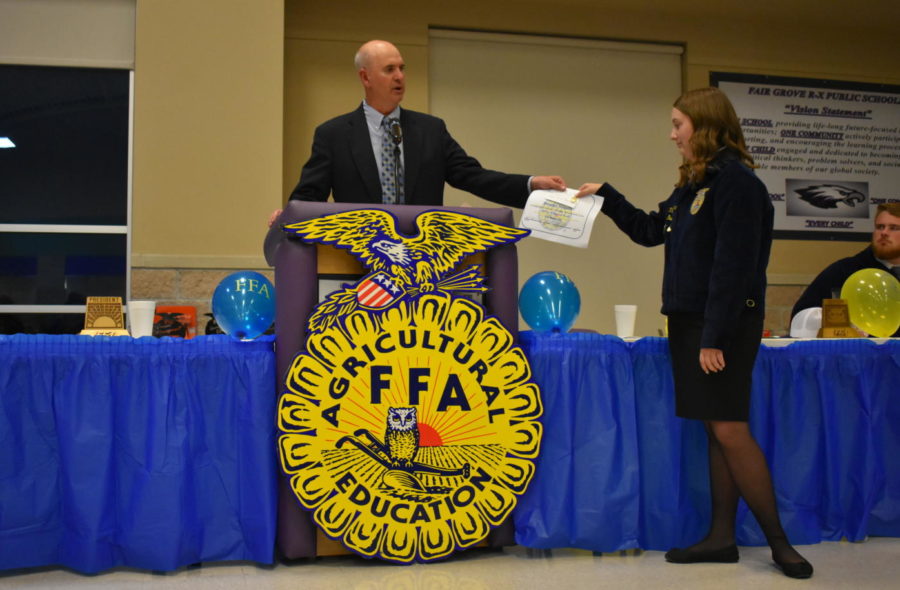 The Future Farmers of America (FFA) program is well known throughout Fair Grove, and with the 2019 school year coming to an end, the FFA end of year banquet was held on Friday, May 3rd. Food was provided, then awards and scholarships were given to members of FFA.
Throughout the year FFA participates in many different activities. They send teams to competitions including teams such as a meats team, dairy team, and a livestock team. They work parking lots at the Fair Grove Heritage Festival, have tailgate parties before football games, and have their annual Christmas party. They visit Farm Fest, and have a Farm Day where elementary kids come and learn about all of the different animals and farming equipment.
Senior Garrett Love said, "I'm going to miss the bus rides with Macey [Stallings] and [Mr.] Crutcher the most."
Garrett Love competed on the meats team with Anna Kate Johnston (11), Michael Steineke (12), and Brooke Heavin (11).
The dairy team went to state this year, team members include Lucas Crutcher (9), Cheyanne Novak (9), Bethannie Novak (9) and Devon Miller (9). The livestock team consisted of Macey Stallings (12), Megan Overy (10), Bailey Richardson (10) and Ryah Icenhower (12).
Macey Stallings stated, "The FFA banquet was a time for the 2018/2019 officers to present awards to members and to initiate the new 2019/2020 officers."
Brooke Heavin (President), Macey Stallings (Vice President) and Garrett Love (Reporter) all awarded the new officers with their positions.
Macey said, "I'm really going to miss the bonds that we all created with each other over the four years I've been in FFA, like with our president Brooke Heavin, and our advisor Matt Crutcher who have made this year so enjoyable."
The 2019/2020 school year will kick off the year for more FFA members, the seniors graduating have given their roles up to younger members and are expecting the FFA teams to work hard next year.