New Year New Note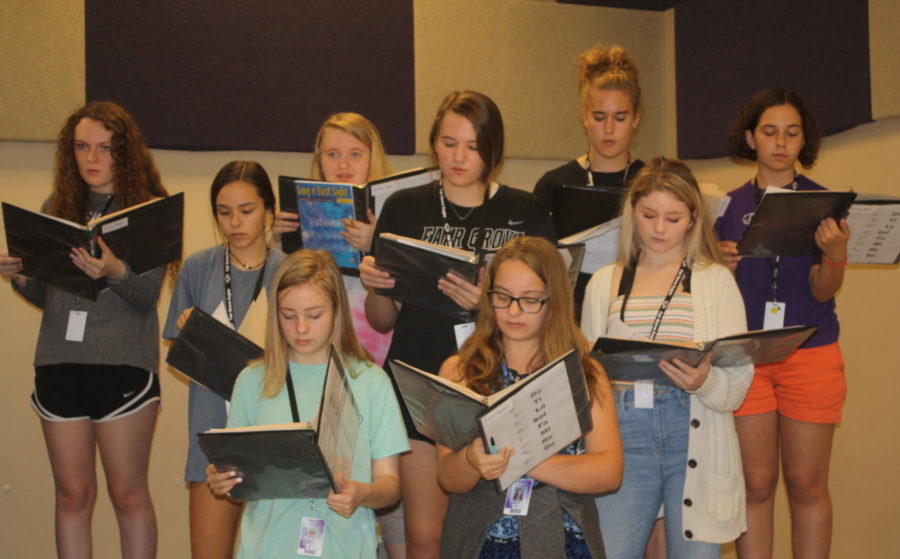 Erin Blevins
September 25, 2019
Fair Grove High School choir will be facing challenges this year but is adjusting to overcome them. The director will be going on maternity leave in mid November and this years leaders are expected to keep the class running smoothly.
The new school year is bringing some challenges for the choir, since the director will be leaving on maternity leave. Choir Director, Mrs. Audra Harmon, commented on how she expected the class to be run after she leaves. She explained, "I'm hopeful that choir will be ran the same way while I'm on maternity leave. The sub we have coming in is also a choir director, so I know the choir will be in good hands while I'm gone." The leaders will have a big part on continuing to improve this year along with the sub. 
Some changes are being made this year for improvement. Mrs. Harmon has purchased books to help develop sight reading and technique. Everyday they spend 10-15 minutes of class to work on new skills and terms. Mrs Harmon commented, "I can already see a big difference in our level of confidence." The leaders this year have a big part in keeping the class on track and running smoothly.
The section leaders are in charge of a smaller group of students. Abby Quirino (12) said "Being a section leader in choir is important to me for two main reasons. I have to keep my section in line and make sure they're paying attention, and I also have to help them whenever they are struggling." All of the leadership positions are expected to know how the class works and how to help whenever it's needed. The president of choir, Jacob Morelan (12), is the student that takes over the class when Harmon is gone for a day, so during her maternity leave, he is the main source of help.