The Last Step for Future Teachers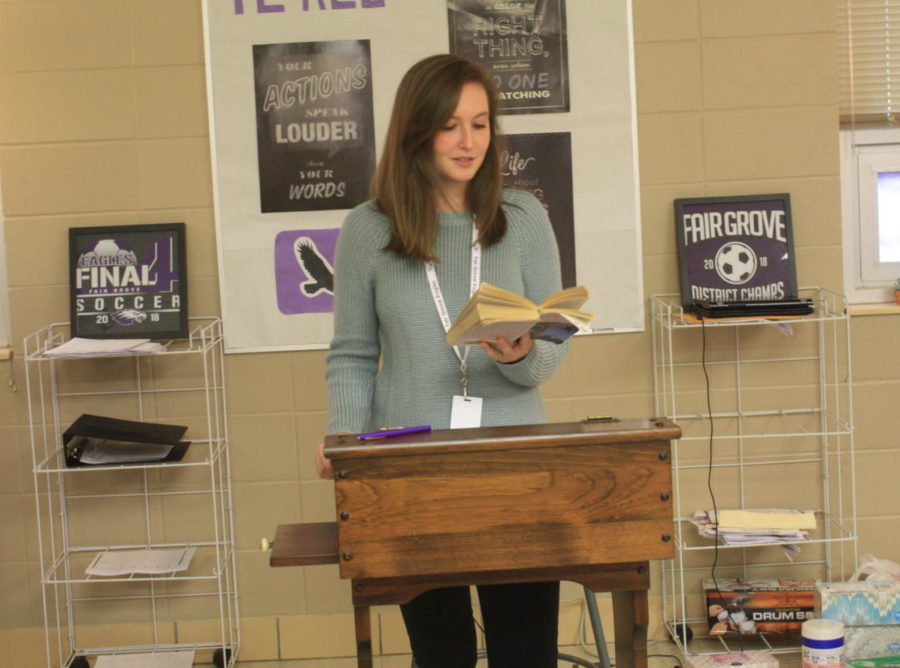 Dory Baker
September 25, 2019
This year Fair Grove High School has three college students student teaching, Kelly Camp, Sierra Zeiss, and Brooke Thiesen.  "Unfortunately, 44% of new professionals leave within 5 years of starting their career. This is a startling reality. My goal is to change that outcome by fostering and mentoring new professionals to give them the start they need to be successful and stay in the profession." said Darci Friberg.
A student teachers job at the beginning is to observe and help with jobs around the classroom but eventually they work themselves up to teaching the class before they are done. Student teachers normally help teachers in the general direction on what they are interested in teaching themselves. 
Kelly Camp is student teaching for Joseph Florez, teaching freshman English, storytelling and podcast, and newspaper. She plans on leaving Missouri to head to Texas to get her masters in english at the University of Texas at Tyler after she graduates from Southwest Baptist University. "I hope my students will feel comfortable and able to be themselves in my class," is Camps goal as a future teacher. 
Sandy Hammers also has a student teacher this year. She was actually her art teacher at Buffalo elementary school. Brooke Thiesen is currently enrolled at College of the Ozarks. She hopes to teach art in a way that motivates students to think creatively. Thiesen dosn't have a preference of what age she teaches "I want to teach art to any age group. Each age group has unique qualities that make teaching interesting and rewarding." she explained.
"The topics of FACS (Family and Consumer Sciences) have always been a hidden interest of mine, therefore, I feel as if I was meant to share that with others who can be influenced." Sierra Zeiss, Darci Friberg's student teacher, commented. Zeiss is going to graduate from Missouri State University after she finishes her internship at Fair Grove. Friberg was her sewing teacher at Missouri State which is partly why she decided to student teach at Fair Grove.
Camp and Thiesen will finish their student teaching at the end of first semester and graduate soon after. Zeiss is actually interning here so she will be staying at Fair Grove until April.