Fair Grove Honors the Nation's Heroes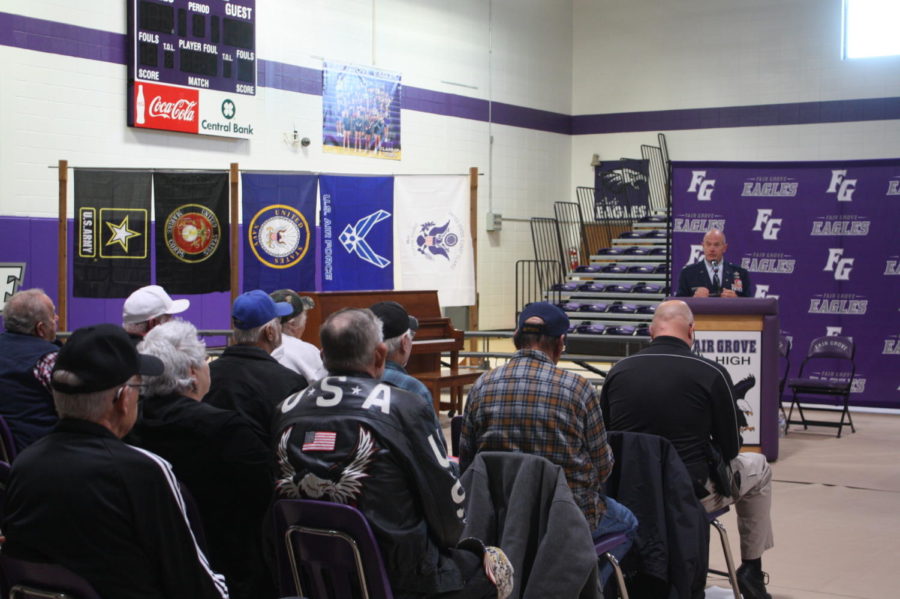 Nate Brigman
November 19, 2019
On November 9 the Fair Grove Middle and High Schools merged to celebrate the nation's veterans, in an hour-long assembly for Veteran's Day, which was November 11. The event was open to the community's veterans and their families.
High School Principal, Chris Stallings, who welcomed the veterans to the assembly, believes the Veteran's Day assembly to be the most important of the events the school district holds. Stallings noted, "We are very fortunate to live under a blanket of freedom each day so it is important that we extend our gratitude to those who have sacrificed so much at some point in their lives protecting our freedom. In addition to their personal sacrifice you have families that have given up so much as well. Right here at Fair Grove High School we have parents who missed all of their sons ball games last year and another that will miss their daughters graduation this Spring. It's because of stories like this that we as a school want to do everything that we can to honor our Veterans and active duty." 
After Stallings introduced the event, the High School Choir performed the National Anthem, and were followed by the Pledge of Allegiance, recited by Student Body President Liz Holland. The song "Thank You Soldiers" was then performed by the Elementary's Singing Eagles, a group of elementary students who perform in the extracurricular group. The High School Choir then retook the stage to sing "Blades of Grass" to honor fallen soldiers. A pair of Middle School students, Hadie Wingo and Stephanie Dunham, read essays that each of them wrote on why veterans are important to them. 
Guest speaker Colonel Dan Semsel then spoke about his 25 years in the Air Force, from his travels to his interactions with different people. Colonel Semsel is the father of the MS/HS band teacher Natalie Palomo. As Stallings noted, "Selecting a speaker each year is often times the most challenging piece of arranging the Veterans Day assembly… After hiring Mrs. Palomo and hearing her dad's story I knew we had an awesome opportunity in front of us to get a great speaker. It was an honor to have a speaker with such a decorated military career." Evidently Colonel Semsel enjoyed the chance to speak. Palomo said, "My dad felt honored to have been asked to speak, and said it was one of the most well put together assemblies he's been a part of. He enjoyed the opportunity to shed a little light into what it's like to be a veteran, and the life experiences (good and bad) that he's had because of his career. He hopes the community and student body enjoyed the little slice of military life that they got to see from him, and he was impressed by the entire day's presentation."
Colonel Semsel was then followed by the HS band, who played the theme for each branch of the military. A slideshow of local veterans and active service members created by Cayse Overstreet was then shown,  followed by a moment of silence and the playing of Taps by Avery Gautieri. The assembly concluded with a veteran's tribute video and a KY3 clip covering the FG football team's game in which they honored veterans.
In total around 40 veterans attended, along with another 25 family members of vets. Following the assembly, veterans were fed a lunch in the MS commons by the FGHS Student Council.