Inspiring Hope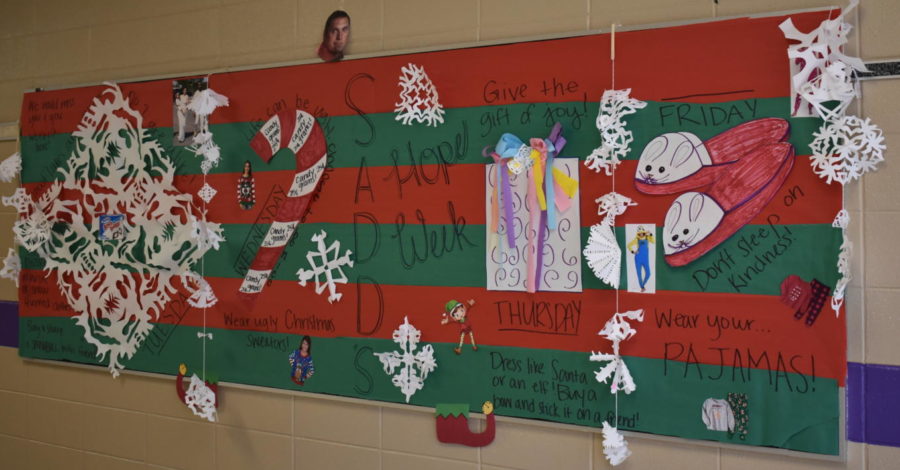 Lydia Engel
December 11, 2019
This year, Fair Grove high's Students Against Destructive Decisions (SADD) club are commemorating a week to show support for those who are suffering from depression and/or suicidal thoughts and tendencies, on Dec. 10-13 called Hope Week. Right now suicide is the 2nd leading cuase of death for teens and young adults. Leah Weaver (12), the president of SADD, wishes that Hope Week will show suicidal students that they can find a safe place where people care about them in their high school.
Mr. Jon Foster, sponsor of SADD, shares, "[We hope to] encourage students to make FG a place where people are glad you came to school & enjoy the gift of life." Mr. Foster shares that suicide rates have been increasing over the past 15 years. "The number one reason stated for those who attempted suicide is loneliness," he adds. Hope Week exists to remind students they are not alone.
The idea for Hope week came from Weaver, who saw it as a need for Fair Grove students. "It benefits them by showing them that people do care about them and want to love on them and help them." She added, "It also is a way for kids to step up and ask for help and will not be judged or feel bad about what they are going through." Students at Fair Grove who are struggling with suicidal thoughts or depression can talk to their counselor, Mrs. Tonya Peck.
SADD has cleverly named their spirit days for this week to encourage and support the students at their school. Tuesday will be "Snowflakes are unique…no two are alike. We would miss you if you weren't here." Students will dress in snow themed or white clothes and can purchase "snow cakes." The next day will be "Life can be ugly, choose to be nice." Candy grams can be bought for $0.25 and ugly Christmas sweaters will be worn. Thursday is "Give the Gift of Joy" where students will dress like santa or an elf. Finally, Friday's spirit day is "Don't Sleep on kindness," where students will wear their PJs. 
Suicidal tendencies and depression are serious and should be helped as soon as possible. Accoding to WebMD, some signs of depression include trouble concentrating, remembering details, and making decisions, fatigue, feelings of guilt, worthlessness, and helplessness, pessimism and hopelessness, insomnia, early-morning wakefulness, or sleeping too much, irritability, restlessness, loss of interest in things once pleasurable, including sex, overeating, or appetite loss, aches, pains, headaches, or cramps that won't go away, digestive problems that don't get better, even with treatment, persistent sad, anxious, or "empty" feelings, and suicidal thoughts or attempts. If your or someone you know is struggling, don't hesitate to get help. The National Suicide Prevention Lifeline number is 1-800-273-8255.