Choir Wraps Up First Semester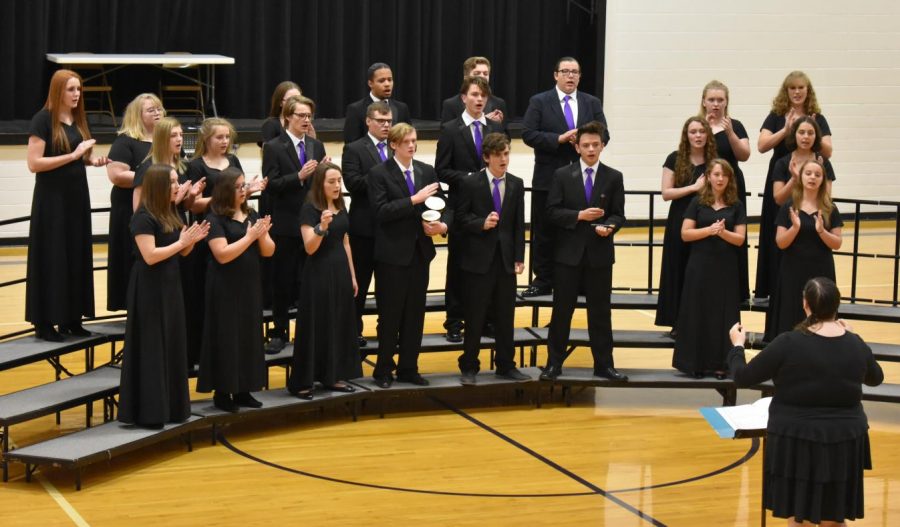 Nate Brigman
December 19, 2019
On Friday, December 6, the High School Choir held their winter concert in the Upper Elementary gym.  They were preceded by a performance by the MS Bel Canto choir, who later accompanied the high school choir for a song.
The pieces selected for the choir to sing were conducted by choir substitute teacher Mrs. Ray, who is covering Mrs. Harmon's normal role while she is on maternity leave. However, Harmon leaving to care for her child did not greatly impact the choir's learning of their pieces. Abbygale Quirino, senior choir member, stated, "Mrs. Harmon taught us the majority of the music before she left for maternity leave, but Mrs. Ray helped us polish and perfect our songs." Choir president Jacob Morelan also noted that the choir had gotten the pieces at the beginning of October and had been utilizing every school day to practice them. 
The pieces selected for the choir to perform were Sing We Now of Christmas, Jing Jinga Ling, Carol of the Bells, and A La Media Noche, a song sung entirely in Spanish. This unconventional addition to the roster of songs proved to be one of the more challenging pieces for the choir. Morelan explained, "It is not only in Spanish, which proved to be very difficult for some of our members, but it is also a faster paced song, and on top of that the song required four members, Easton Beltz, Jacob Smith, Jade Hauman, and Matthew Cockroft, to all play an instrument as well as sing." The challenge factor of the piece did seem to appeal to some members, however. Quirino, commenting on her favorite piece, stated, "My personal favorite has always been Carol of the Bells, but this year we got a different arrangement of that, so my favorite this year was A La Media Noche due to the difficulty level."
The high school choir was then joined by the Bel Canto choir in performing Night of Silence. Quirino enjoyed performing with the middle schoolers because "it added an interesting dynamic to the piece."
The choir will perform a spring concert, for which a date has not yet been set.