Bushfires and Rising Temperatures Devastate the Australian East Coast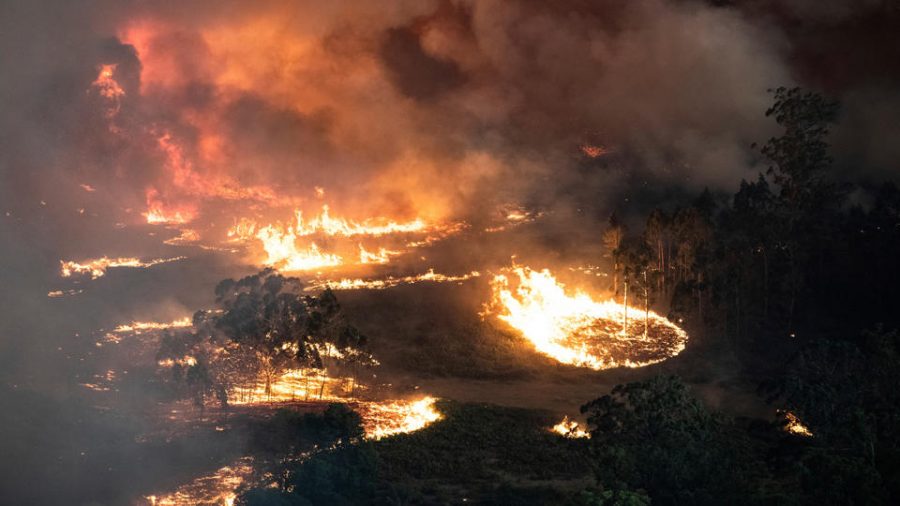 Georgia Whalley
January 14, 2020
Australia is burning as heat waves roll through, adding fuel to the nationwide bushfires.
Fire season is a yearly danger in Australia, but this year, it is going to the extreme. Fire season starts mid-August, and ends just after the conclusion of Australian Summer. These fires are an essential part of the environment to a certain extent, as some native trees and landscapes require fires to have healthy regrowth.
In 2009, Australia adopted a Fire Danger Rating that is shown on the daily weather newscast. It ranges from low to moderate, high, very high, extreme, and the highest rating, catastrophic/code red. Parts of Australia, including New South Wales and Canberra, are currently in the catastrophic rating.
The Australian government has declared a state of emergency for New South Wales and Queensland, as the current climate has broken record high temperatures.
As of December 15th, 2019, the current New South Wales and Queensland fires have burnt over 3,700,000 hectares (9,142,899 acres), destroying over 700 houses, and claiming the lives of 8 people. 
The fires are happening all around the coast of Australia, but are hitting the eastern coast the hardest. More than 50 percent of Queensland is in complete drought. Resident of Queensland, Tayla Coleman, explained, "My nose is burning everyday from all the smoke in the air." (Editor's note: The writer is Australian, and this quote is from one of their siblings.)
There is more to focus on than the people and property being destroyed, as the wildlife is beginning to suffer too. Koalas are being killed and burnt, and with their habitats being destroyed, the Koala Conservation of Australia believes it could place koalas on the endangered animals list in the coming years. According to BBC, a firefighter in New South Wales used an oxygen mask on a kangaroo struggling to breathe due to the blanket of smog covering the state.
Contrary to popular belief, Australia has many rainforests that are classed as "permanently wet." According to ABC News, these rainforests, that have been wet for millions of years, have begun to burn for the first time. In an interview with ABC News, Mr. Graham, a fire specialist with the Nature Conservation Council expressed, "We are seeing fire going into these areas where fire is simply not meant to go."
With fires seem to continue raging on without any sign of stopping in the near future, millions of people are going to be affected, losing land, homes, and possibly friends or family. If you would like to aid the reconstruction, feel free to visit https://www.wwf.org.au/get-involved/bushfire-emergency to donate or see how you can help.