Shooting Big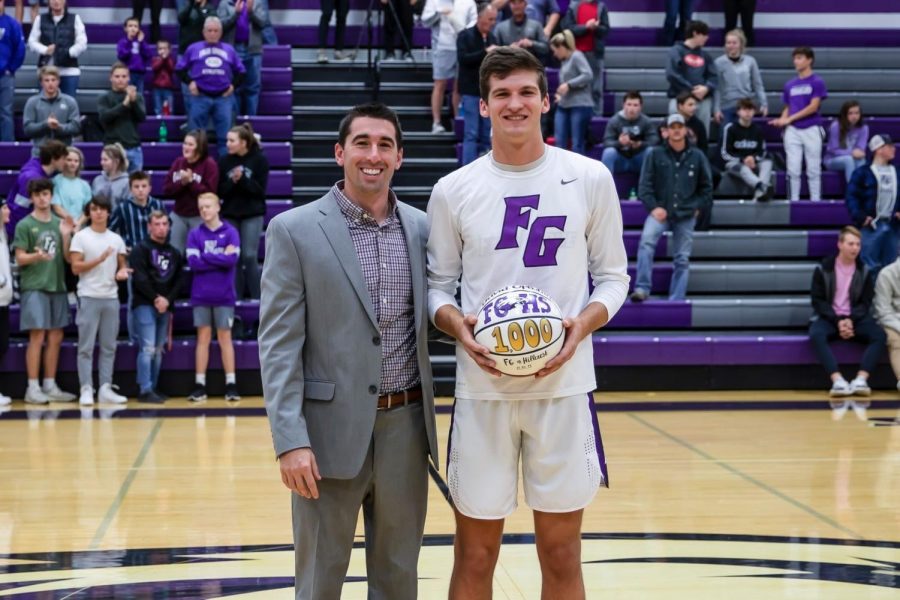 Sydney Dame
January 31, 2020
On Tuesday, November 26, Fair Grove senior, David Oplotnik, made high school career history during his first home basketball game of his senior season against Hillcrest. David scored his 1,000th career point.
"I was very surprised when it happened," said Oplotnik. "I didn't know when my 1,000th point was but everyone knew so they cheered when it happened." After the point was scored, Oplotnik was gifted a decorated basketball with the date of the game and the amount of points he has scored on it. His friends and teammates were there to cheer him on knowing he was about to score his 1,000th point. 
David's mother, Anita Oplotnik, was recently inducted into the Missouri Sports Hall of Fame for holding the Missouri Southern State University (MSSU) school records for scoring (1,842), field goal percentage (.564), free throws made in a game (17), free throws in a career (476), consecutive free throws in a game (15), free throws in a game (21), free throw attempts in a career (600), single-game free throw percentage (1.000), fouls in a career (376) and games started in a season (32). "I feel very blessed to score my 1,000th point but I realize how far away I am from even getting close to where my mom was as a player." 
Oplotnik says that his biggest supporters would have to be his family. "My family comes to most, if not all of my games," along with the support of his friends and teammates cheering him on during the games.
David states, "I have decided not to play basketball in college and play football instead. I do plan on playing intermediate basketball for fun though." As of right now, there isn't an updated total on the amount of points Oplotnik has scored but he would estimate it to be around 1,250 points.