The Wall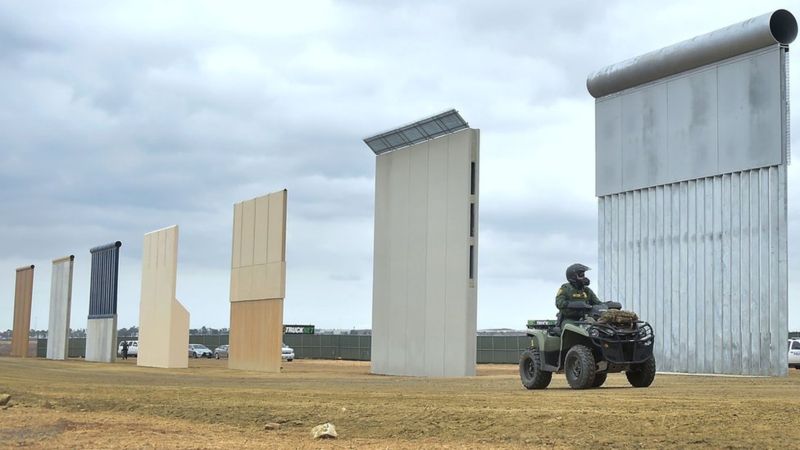 Chloe Marlow
February 11, 2020
Alongside the questionable catchphrase pledging to "Make America Great Again" President Donald Trump has made several other 'promises' to the country that he's sworn to accomplish throughout his presidency. Donald Trump stated in 2015 at his presidential announcement speech, "I would build a great wall, and nobody builds walls better than me, believe me, and I'll build them very inexpensively. I will build a great, great wall on our southern border and I'll have Mexico pay for that wall." This very quote initially introducing the controversial conversation of whether building a wall was humane with the public. 
The President plans to have a wall that's around a thousand miles long that spans across the southern US-Mexico border. Trump stated in late 2019 that by the end of 2020 around 450-500 new miles of the wall will be built. Currently there's nearly 200 miles completed and if everything goes according to what is planned and Trump's goal for the expansion of the wall is met by the end of the year then the wall should be completed by 2022. 
Trump initially planned for the cost for the construction of the wall to be paid by Mexican taxpayers. The former President of Mexico, Vincente Fox responded to Trump's plan, Fox stated, "We are not paying for that stupid wall." President Trump retouched on his previous demand of ensuring that Mexican taxpayers will pay for the wall recently at a campaign rally in New Jersey on Wednesday, January 29th 2020. He stated, "But, Mexico is, in fact, you will soon find out, paying for the wall, okay?" Trump said. "The wall is ultimately and very nicely being paid for by Mexico," he added.
Trump vowed to have over 450 miles of the wall completed by the end of 2020. But there's more than just expanding the wall that Trump should be aware of. On the 30th of January a portion of the border wall was tilted over due to high winds and leaned against Mexican land, these were newly installed panels. Washington Post is currently getting slammed by other media for uploading misleading reports stating that panels were completely removed from the wind when they were only swayed.