Mid Day Boys Middle School Basketball Game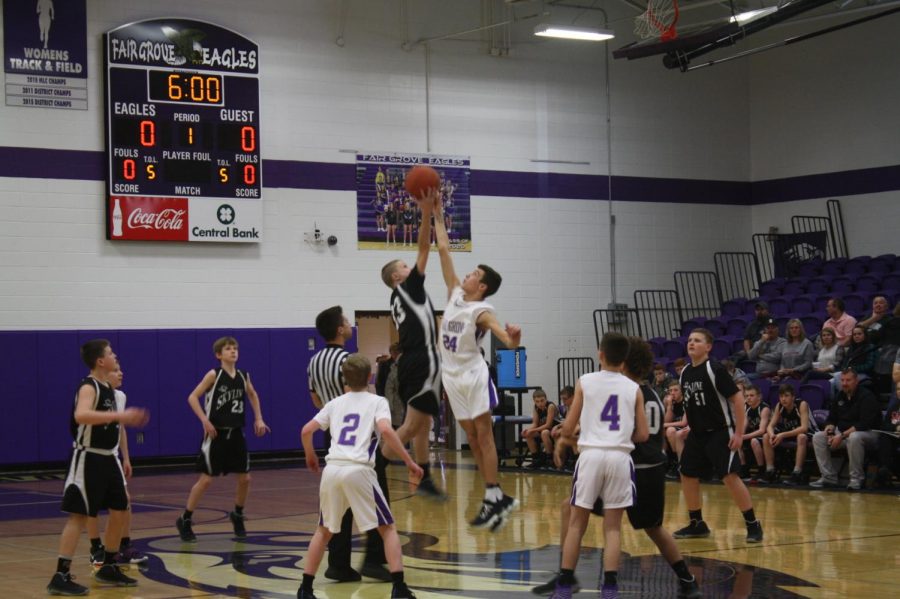 Dory Baker
February 11, 2020
On January 28th, at noon, the Fair Grove seventh and eighth grade boys basketball teams won two games at home, in the middle of the school day and the whole school got involved.
The team had played Skyline last year, at Skyline, during the school day but this year they came to Fair Grove to play. Sam Kennard, who plays on the seventh grade team, said, "My favorite part about the day was that we got out of school early and we got food before the game. We also got to stay for the eighth grade game which took up almost the whole school day." 
The entire middle school body and staff got to attend the game and cheer on their classmates. Many members of the community also came out to watch the game. "The game is great for allowing teachers and students who are usually not allowed to make a game in the evening see their students and classmates play," Explained head coach, Randie Roepke. 
It also gave the middle school cheerleaders a chance to perform for their peers. "Our girls did amazing! They were sharp, loud and the crowd was very involved. They showcased their stunts and pyramid during timeouts and led the crowd in a cheer and stunt between quarters," said cheer coach, Bailey Calloway. 
Even some of the high school was involved. The National Honor Society had some students volunteering in the concessions stand and the high school pep band played during time outs and half time. "I think it was important because the whole point of pep band is to hype up the teams and the crowds for our athletes, and our middle school athletes deserve some extra energy too… It was nice to be able to go out and show some support for our younger Eagles too," explained, band director, Natalie Palomo.