The Senior Night Basketball Game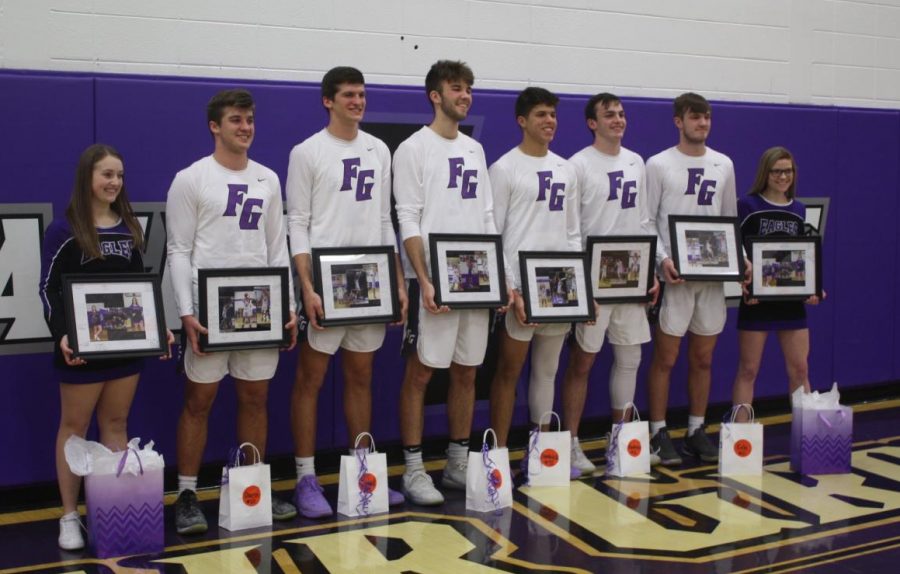 The high school boys basketball team had its senior night game on February 4th.
On the basketball team there are six seniors this year, Ambrose Broyles, Darin Oplotnik, David Oplotnik, Cole Gilpin, Alex Ince, and Dominick Hoskins.
Being a senior, especially while playing sports, can be very reminiscent. It's going to be their last year being on that team and playing for Fair Grove. 
Each senior player this year is going through a bunch of different feelings, with it being their last year playing. Hoskins stated, "It being my last year affects me a lot. I love the game and I'm gonna miss playing with my guys on the team." 
Oplotnik explained, "For it being my last year playing basketball, I feel kinda sad. I've been really trying to enjoy it and make a lot of memories on the way."
It's not a sad time for just the basketball players, as it is the same for their families too. Their parents watched their kids grow up playing basketball or another sport, and with it being these kids senior year, it can be hard and exciting at the same time for them, their team, and their family. 
Even though the Fair Grove boys basketball team is going to be losing some great players when the seniors graduate, they can also look forward to the up and coming leadership as well as the new freshman coming in to make their own mark on the team.
The senior night game was constantly neck to neck on the score. For a while Fair Grove was ahead, but near the end, Hartville made a quick turn around. Hoskins explained, "During the game we played our best and couldn't have done any better."
The senior night basketball game was against Hartville with the varsity team losing 52-55. 
Even if the senior night game didn't end in a win, the seniors on the basketball team were still recognized that night for all the hard work and effort they put into that team.
More photos here