Caribbean Miami Earthquake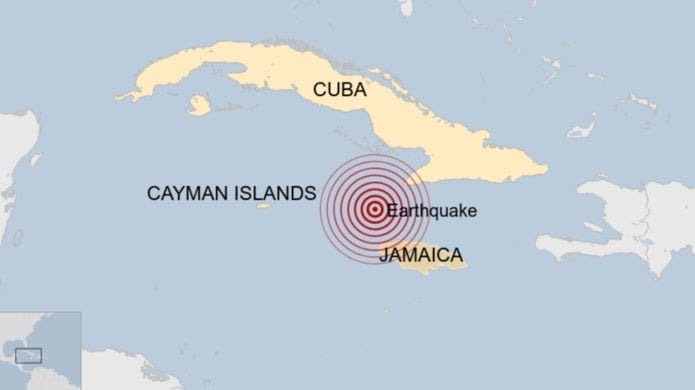 Sydney Dame
February 18, 2020
Panic struck in Miami, Florida on January 28 when a 7.7 magnitude earthquake hit the Caribbean at 2:10 pm est.
"The quake hit between Jamaica, the Cayman Islands and Cuba at a depth of 10 km (6.2 miles)," the US Geological Survey (USGS) said on Tuesday. Tremors from this earthquake were felt deep into Miami, Florida causing many schools and buildings to evacuate all personnel inside to prevent injury. Buildings in Jamaica shook in the chaos of the earthquake, but no casualties were reported immediately. The Pacific Tsunami Warning Center (PTWC) initially said, "hazardous tsunami waves" were possible for coasts located within 300km (186 miles) of the earthquake's epicenter. "Based on all available data, there is no significant tsunami threat from this (6.1) earthquake. However, there is a very small possibility of tsunami waves along coasts located nearest the epicenter," the National Weather Service's Pacific Tsunami Warning Center said. These warnings were later withdrawn at 8:45 pm est.
This earthquake was the largest one to hit Jamaica since 1946 with a magnitude of 7.7, with the aftershocks lasting three hours and the largest one being a magnitude of 6.1. 
Although this earthquake was very large in comparison to Jamaica's normal magnitude 3 earthquakes it was not the most catastrophic one to hit Jamaica. The infamous Port Royal earthquake of June 7, 1692 was possibly the largest and most damaging natural disaster to hit Jamaica and the Caribbean. Even though this earthquake was felt island wide, the most damaging effect was in Port Royal where half of the town sank into the sea, losing approximately 2,000 lives after the outbreak of yellow fever due to the quake. 
Being a little shook up after the quake, normal life has proceeded in Miami, Jamaica, and the Caribbean after this large earthquake.