Saying Goodbye to Basketball's Senior Girls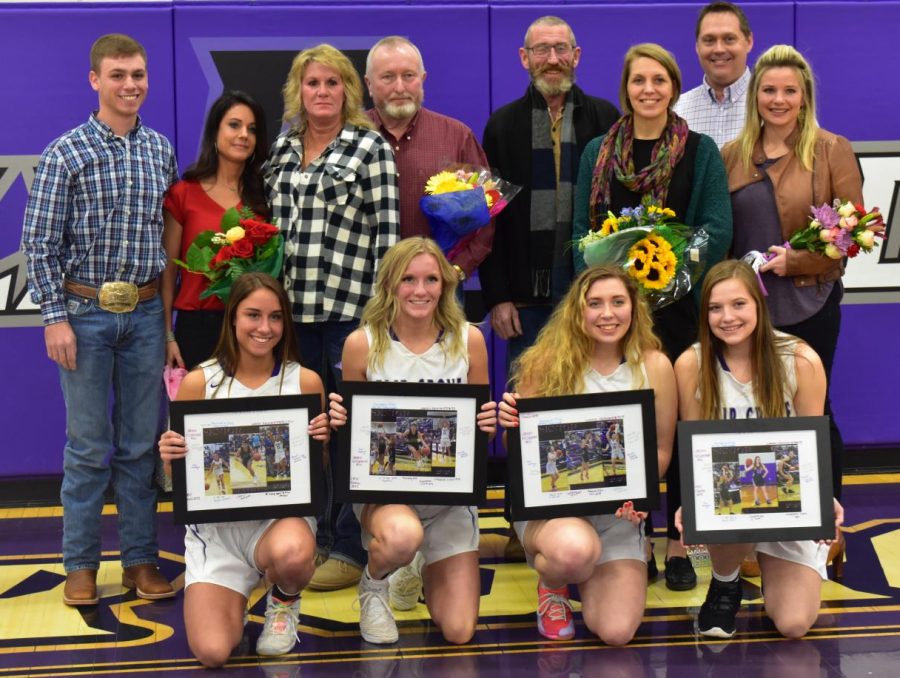 Georgia Whalley and Mitch Van Cleave
February 20, 2020
On Thursday, February 13th, Fair Grove held their senior night for the High School Girls Basketball Team.
This year, there are 4 seniors on the team, Maddie Clark, Liz Holland, Bailee Morgan, and Kennedy Phifer.
Seniors typically become the primary source of leadership on the team when their last year begins. Head Coach, Jennifer Talbert, described, "Each girl has stepped up in their own way." Each senior contributed to management of the team, as well as setting an example of good work ethic for the underclassmen.
Talbert explained, "We have asked Maddie to improve her vocal leadership and be a good resource for our younger girls for questions they might have. Liz has also become a strong leader and we have asked her to remain our positive voice on the court," Talbert continued, "Bailee has really stepped up as one of our main scorers… Kennedy has stepped up and has been a valuable member of our varsity bench."
The game was at home against Ava on February 13th. Unfortunately, they lost their varsity game with a score of 46-51. Morgan informed, "We didn't have the outcome we wanted, which was a win, but I thought we played really well and it was a good game overall."
But with seniors graduating from the team, the underclassmen have the responsibility to fill their shoes. Junior member, Brooklyn Luna expressed, "I am more than ready to be a senior. I've already grown so much, and next year should be fun. It will be a challenge and I'm ready for it."
Student leadership is "…vital for our success, because they set the tone for our team. When they show strong leadership, then our team functions as a unit," Talbert noted.
Luna commented that the team is close, and seeing the seniors leave is always sad, but next year, it's her turn to step up. "I learned that no matter how the game is going, I need to stay up with my team and not get down on myself."