The Knights and Rooks of Fair Grove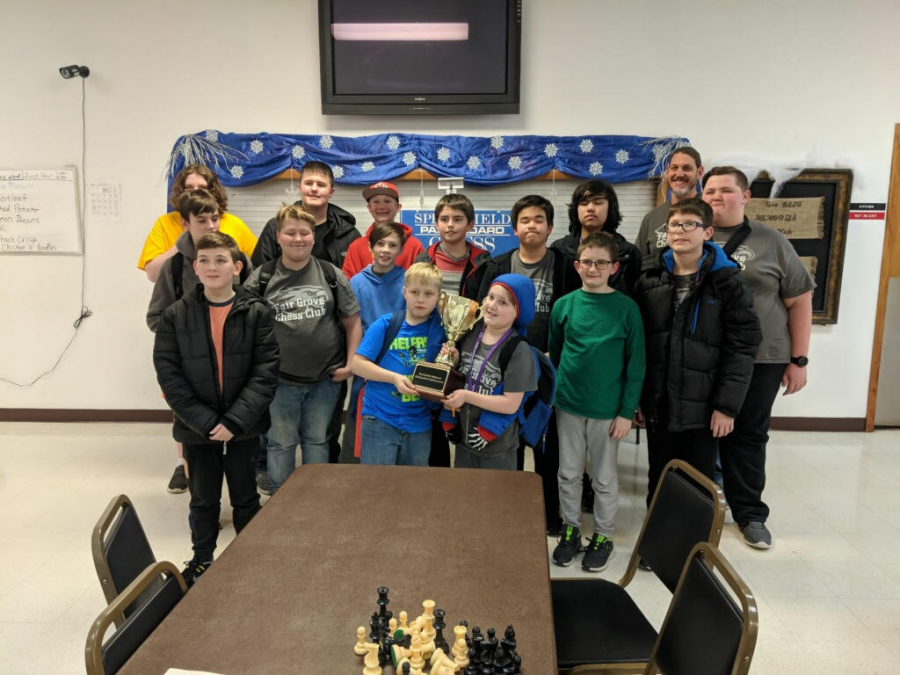 Fair Grove High Schools Chess Club attended a tournament directed by Adam Whitaker at Weller Elementary Schools on February 27th.
Fair Grove Chess Club is run by Mr. Micheal Van Cleave. There is both a middle school and a highschool chess club. Both clubs participate in the same activities by, hence the name, playing chess and competing in tournaments against other schools.
The Chess Club is part of an overall league known as the Southwest Missouri Chess League, sponsored by Whitaker himself. The league is divided into two seasons, fall and spring, each season including three tournaments. Each team earns points that are kept to determine the winner at the end of the season, as well as individual awards given for each tournament. According to Van Cleave, "The winning team "hosts" a trophy that travels around, and has their name engraved on it (the trophy is currently on top of the middle school case in the cafeteria if you want to see it – we won it this fall)."
On Thursday February 27th, Fair Grove took part in their second spring tournament of the season at Weller Elementary School in Springfield. The tournament was held at Weller because they have a team that plays in the league, just like any other sport does. Their first spring tournament was on January 23rd at the Springfield Park Board, and their last one will be held on March 26th at the Ozark Middle School, where Whitaker, the sponsors, teaches.
At tournaments, students are put into pairs based on their skill and ability levels. Each skill level is organized into a specific class: Knights (beginners), Rooks (intermediate), And USCF rated (advanced). The USCF stands for United States Chess Federation, of which rates players with a number indicating their skill level. The winner of each match is awarded one point, and if there is a tie, or a stalemate in chess terms, each player is awarded half of a point. Afterwards, players are paired for the next round by a software program that sets winners against winners and losers against losers. A typical tournament consists of four to five rounds. Anyone is welcome to attend and watch a tournament, and there is no cost to participate. Mr. Van Cleave has high hopes for the season stating, "We hope to win the spring season, and we will end chess club for the year after the last tournament on March 26."
Issac Line (9), a student that attended the chess tournament and is part of the chess club, when talking about the tournament mentioned, "As a whole, I feel like it went pretty well [and] I had fun."