Local Business vs. National Sickness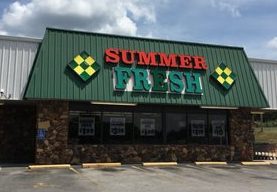 Nicholas Hamp
April 4, 2020
Editor's note: As with all COVID-19 news, things are always changing. Any policies from specific businesses should be confirmed before you arrive.
With Fair Grove recently being affected by the world-wide pandemic, local businesses have started to change the way they serve the community in order to ensure the safety of their customers.
Hilltop Pizza, one of many restaurants in Fair Grove, has seen a drop in business due the fearful spread of COVID-19. With help from a health inspector, Hilltop has shifted the way they're doing their business. Gary Lee, the owner of Hilltop informed, "We're taking every precaution we can. We're taking it out to cars. Everyone is wearing gloves, we sanitize, we wash."
In addition to the sanitation precautions, they have also been allowing only 10 customers in the dining area at a time, and have moved all chairs 6 feet apart. They're also delivering directly to the senior community."We just have to ride it out and do everything we can that's possible," Lee stated.
Summer Fresh, a grocery store that has been a pillar in Fair Grove, had their own hit from the recent quarantine. Ashley Crews, the grocery manager at Summer Fresh, commented, "We've had a lot of empty shelves due to big rushes of people getting what they think is necessary." The store has taken action in combating this virus by closing an hour early to clean and sanitize, and any employees who come down with a cough or fever are sent home.
Additionally, the first work hour is devoted to seniors and people with pre-existing health conditions. Crews doesn't think this epidemic is slowing down anytime soon, but she still thinks we can all contribute to the fight. "Everyone needs to work together more than anything; just be supportive of each other," she added.
Fair Grove City Hall has also made its own changes. Dana Louderbaugh, the city clerk, informed, "We are closed to walk-in traffic, but if someone needs something done that requires a person-to-person, that can happen." The City Hall often deals with information, court hearing, city construction, and all other general city business. Dana concluded, "We encourage everyone, once this is over, to definitely support our local businesses."