State Champs: Fair Grove Scholar Bowl Team Takes 1st
Fair Grove High School's Scholar Bowl team went to Columbia today, Friday, May 7th, and they have won Missouri´s state wide championship. 
The team is made up solely of underclassmen, requiring each member to step up and take the reins by studying and practicing extra, especially with state approaching. Christian Allen (10) explained, "We practice from about 3:45 after school to about 5:00." 
When it comes down to competing, the sponsor Mrs. Wahlquist seems to have picked her team very wisely. Each person on the team brings a different specialty in a subject. Christian Allen explained that he is more confident in history and geography, so he brings that knowledge to the team.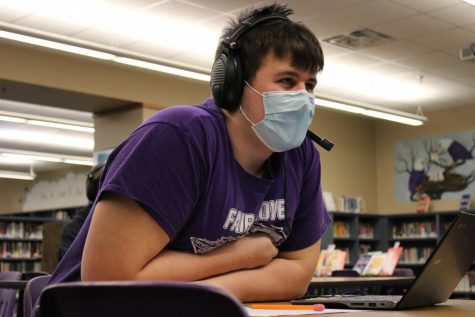 One member on the team that has especially made an impact this year is Braden Booth. Braden skipped 8th grade and went straight into high school. He is now a sophomore and has been selected by the state of Missouri to compete in nationals for Missouri. He explained that the journey of making it to state started all the way back in middle school. When he first started playing he loved it. The more he played the more he enjoyed doing it so the more he practiced to become better. He said the more results he saw the more excited and happy he would be. "I practiced as much as possible over last summer, and this improved my performance by about sixty percent."
With Braden going to nationals he explained it is going to be a bit different than competing with his normal team. At Fair Grove all the team members know everyone's strengths and weaknesses, but now he will  play with a whole new team with a new chemistry. Braden will compete against the nation's best players.
Practice comes with the students' drive to study. Members in their free time will go to practice sites like Protobowl and work on questions similar to the ones asked at competitions. They also will google facts and research topics. Another one of their ways of studying is to just read, from books to random fun facts online. 
With no students from the State Championship team graduating in May of this year, the Eagles' Scholar Bowl team appears to have a strong chance of continued success in future years.