High School Cheerleaders Coming in with a BANG!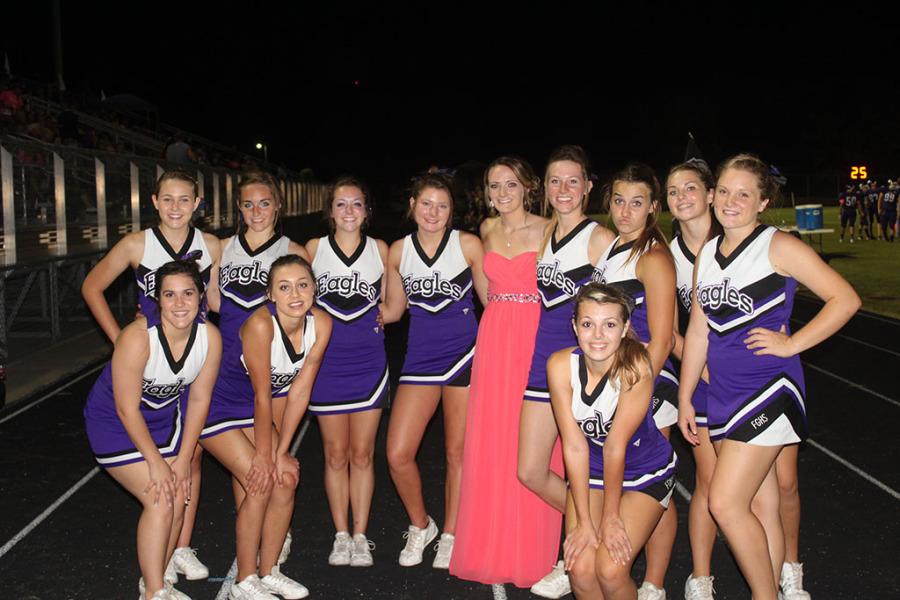 Kayla Bearden, Facebook Manager
September 15, 2014
For this season, "Fair Grove High School Cheerleaders team goals are to accomplish successful stunt groups along with an excellent homecoming performance during the football and basketball season," stated Mrs. Brown.
Senior Morgan McCart says, "I am looking forward to the Strafford game the most because they are really competitive with them." They also compete with them with the canned food drive. "The cheerleaders come together and count every single pound and ounce that is collected for our food drive," explained Mrs. Brown.
Another thing the cheerleaders do to help raise money include; "The Helping Handsprings" which is where, at a home  game they raise money for how many  back handsprings can be accomplished from each cheerleader participating. All the money raised goes to a family in need. " It is a really good way to bring our community together and help each other out," stated Mrs. Brown.
Last year was the team's first year with their new coach Mrs. Brown. "I feel that the girls are more committed and are more cohesive as a team," stated senior Lacey March. The Lady Eagles have done a lot to prepare for this season. Starting at the beginning of the summer they worked on building and trying new stunts as well as their homecoming routine. They have also been going to weights twice a week and practicing twice a week for two to three hours a day.
"We will be getting new uniforms this year, we are suppose to get new ones every four years and I'm excited we are getting new ones my senior year," said Morgan McCart. This year there are a few new girls, Juniors Skylar Powers and Shelby Wallace, and Sophomore Hannah Mallard. Mrs Brown said that she is going to be looking toward the three seniors Morgan, Lacey, and Maddie to lead the team this year.
They worked really hard last year, but this year is going to be even better. "They will be doing a lot of tumbling and doing all the exciting and thrilling stuff that the crowd likes because that is what gets them going," said Lacey March. The last three games were home games against: Buffalo, Skyline and Pleasant Hope. Mrs Brown stated that the girls performed their homecoming routine during the halftime of the Fair Grove Vs. Pleasant hope game.