Lady Eagles Advance to Final Four
The Lady Eagles stormed the court on Thursday, February 23, beating Strafford for the District title win. Followed by wins against Diamond  and Mansfield sending them through Sectionals and Quarterfinals. 
This season, the basketball team has had a lot of success with their games. Currently the Lady Eagles are 26-4 and are only looking up from here. 
Head coach, Jenny Talbert, has been extremely proud of the girls this year, and sees no reason why they wouldn't be at state. She said,  "These girls have worked hard from the very beginning. They were disappointed with the volleyball season ending the way it did, and wanted to take it all the way this season. I truly believe that we are capable of reaching that goal."
Sophomore, Ashton Bell, plays as a shooting guard on the varsity basketball team. She gave input about the season, "I was also upset at the ending of our volleyball season. I wanted to win the district title and move forward so bad. When basketball season came around we made goals for how the team would advance this year, and we talked about individual goals. We wanted to take it all the way from the beginning and I knew we could do it."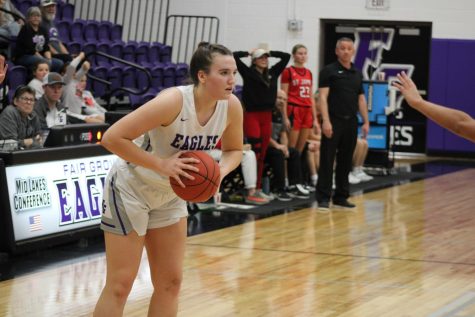 Senior Kameron Green started her basketball career in the second grade. She played on many different teams growing up, and began starting varsity as a freshman in high school.
"It's so surreal with how the season is going. I knew we could do it from the beginning, and if any team was going all the way, this would be the team. I'm so proud of how far we've come, and the determination and love we have for the game. Winning not just districts, but sectionals and advancing to the quarterfinals is such a cool experience."
Abbey Green and Kameron Green are sisters who started playing high school basketball together two years ago. Abbey explained the experience of playing with her sister, "Playing with Kameron has been really fun. I feel like this has made us closer, and I'm just proud and happy we could be ending her season with a state title." 
The Lady Eagles advanced to the Quarterfinals game where they played Mansfield, winning by 2 with the score of 39-37. 
Excitement is rising as the Fair Grove School District is rooting for the Lady Eagles, hoping and cheering for a state title.